2010 Bundeschampionate Qualifiers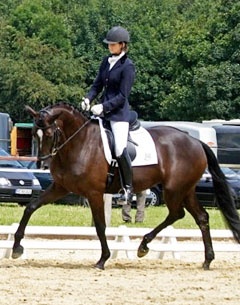 At the Rhinelander regional show in the castle park of Wickrath in Monchengladbach, the Rhinelander bred mare Arietta and the Hanoverian mare Hevona won the Bundeschampionate qualification classes.
Stefanie Wolf and the mare Arietta (by Abanos) scored 8.1 to win the the 5-year old division. They ranked at the top of the leader board ahead of Anke Unger on the Rhinelander Don Carlos (by Don Bedo). This duo received 8.0 from the panel of judges and referred Sonja Bolz on Fantastic Celebrity (by Caretino) to a third place. n e.V. 7.80
Former European pony champion Katharina Winkelhues dominated the 6-year old division on the Hanoverian mare Hevona (by Hohenstein) with 8.3. Former youth rider Annabel Frenzen was second with Lord of Dance (by Lord Loxley) with 8.2, whereas Isabell Werth's in-house rider Matthias Bouten placed third with Freixenet (by Florestan) on 8.0.
Photo © J. Wild
Results
5-year old Dressage Horses
1 Arietta - Wolf, Stefanie- 8.10
2 Don Carlos - Unger, Anke - 8.00
3 Fantastic Celebrity - Bolz, Sonja - 7.80
4 Lezard - Werth, Isabell - 7.50
5 Diamonds Head - Werheid, Svenja - 7.40
6 Santana - Morris Talbot, Chloe - 7.30
7 Fürstin Fabriana - Bartz, Lydia - 7.10
7 Danbury - Unger, Anke - 7.10
9 Walk Of Fame - Hummelsheim, Anja - 7.00
10 Richwin - Camp, Lydia - 6.90
10 Choral - Eng, Deborah - 6.90
12 Dolby Digital - Knieps, Eva Julia - 6.80
12 Ribery - Schöffmann Dr., Britta - 6.80
14 Florenciaro - Heydt, Jan Christian von der - 6.50
Full of Action OLD - Rueben, Sabine - RET
6-year old Dressage Horses
1 Hevona - Winkelhues, Katharina - 8.30
2 Lord of Dance - Frenzen, Annabel - 8.20
3 Freixenet - Bouten, Matthias - 8.00
4 Laudatio - Leuchten, Bettina - 7.70
5 Sanubi - Nolden, Christine - 7.50
6 Finnya - Camp, Lydia - 7.40
7 First Edition - Bunse, Dominique - 7.10
8 Domingo - Flocke-Kochs, Petra - 6.90
9 Reibach - Ricken, Harald - 6.80
Titiano - Svensson, Johan - DNS
Back to the 2010 Bundeschampionate Index