2010 World Championships for Young Dressage Horses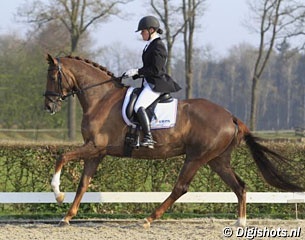 The fifth selection trial towards the selection of a Dutch team for the 2010 World Young Horse Championships brought about no changes to the 5 and 6-year old short list.
"On average all horses show progress in their test rider,' selection committee member Wim Ernes told Dutch website Horses.nl. Two horses were absent from today's trial, TC Athene and Aaron, but they are nevertheless invited for the final selection day on 12 July 2010. 
Eight 5-year olds and seven 6-year olds were presented today to Wim Ernes, Johan Hamminga and Gert van den Hoorn. The big absentees were Pavo Cup winner TC Athene (by United x Jazz), which suffered from sore hooves after a shoeing job and whose rider Jessica Buying is injured to her shoulder, as well as Aaron (by Florencio x Record) whose rider had to compete in the German WCYH selection trial in Warendorf today. 
The Netherlands and KWPN breed society are allowed to send six 5 and six 6-year olds to Verden. The Dutch selection committee will make its final pick on 12 July at the last training seminar. The short list includes:
5-year olds: 
Aaron (Florencio x Record) – Jana Freund
Aendolyn (Krack C x Donnerhall) – Vai Bruntink
Androdine (Sandro Hit x Rubinstein I) – Margreet Prosman
Anne Beth (Oscar x Corleone) – Vai Bruntink
Annerijke (Jazz x Gribaldi) – Jennifer Sekreve
Aston Martin NL (Uphill x Cabochon) – Christa Laarakkers
Astrix (Obelisk x Olivi) – Emmelie Scholtens
Broere Argentino (Jazz x Ulft) – Kirsten Beckers
Presidents Allright (Jazz x Royal Dance) – Laurens van Lieren
TC Athene (United x Jazz) – Jessica Buying
6-year olds
Zambuka (Scandic x Biotop) – Jennifer Sekreve
Zamora (Krack C x Farrington) – Lynne Maas
Zarah (Oscar x Montecristo) – Lotje Schoots
Zhivago (Krack C x Jazz) – Theo Hanzon
Ziësto (Lancet x Clavecimbel) – Gerdine Maree
Zjengis Khan (Rousseau x Rubinstein I) – Nikki Schaap
Zolena (Sir Sinclair x Cabochon) – Annarein Kerbert
Source: Horses.nl
Photo © Leanjo de Koster - www.digishots.nl
Back to the 2010 WCYH Index