2010 World Equestrian Games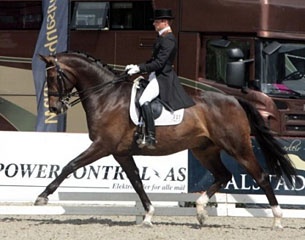 For the first time in history Norway has qualified a dressage team for the World Equestrian Games. The Norwegian Equestrian Federation announced the combinations that have met the selection criteria for WEG and can be send as a team to the 2010 Games in Kentucky, 27 September - 1 October 2010.
The qualified Norwegian riders are:
Lillan Jebsen - Pro Set (KWPN, by Jet Set D)
Cathrine Rasmussen - Orlando (Swedish warmblood, by Master)
Camilla Kalseth - Carte d'Or (Norwegian warmblood, by Solos Carex)
Jonas Elvebakk - Cartier (Danish warmblood, by Blue Hors Cavan)
"It does not mean it is absolutely clear that we will send a team to Kentucky, but the desire to participate is certainly great, and it is very gratifying that we have qualified riders," said sport coordinator Esther Hoff.
Norway is facing financial problems to send a team to Kentucky. Unlike with the Olympics, the national federation and riders have to cover all expenses themselves. The Norwegian federation will carefully consider which combinations of which discipline it is going to send to the WEG. At the moment it is not even certain that a Norwegian show jumping team will be participating in Kentucky. 
Major efforts are currently being undertaken to find sponsors to support the Norwegian participation.
Source: Hestesport.no
Photo © Ridehesten.com
Back to the 2010 WEG index