2010 CDI Cannes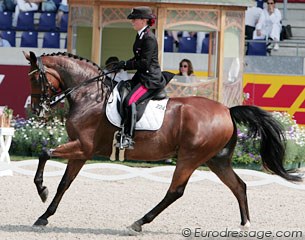 Valentina Truppa on Eremo del Castegno won the World Dressage Masters Grand Prix Special Friday night, the first victory outside her homeland of Italy since capturing the European Young Rider Grand Prix Freestyle in Germany in 2007.
Competing in her second WDM in a month--she finished third in the WDM CDI5* Special at Munich in May--the 24-year-old and Eremo del Castegno scored 71.042 per cent with Germans Matthias Alexander Rath on Triviant UNICEF second on 69.667 per cent and Anja Plönzke on Le Mont d'Or third on 68.792 per cent.
The two Germans were favoured as Anja and Le Mont d'Or were the defending Grand Prix Special champions from 2009 and came second in the Grand Prix Thursday behind Isabell Werth and Warum Nicht, with Matthias third and Valentina in fifth place.
In vying for prize money of €30,000 in the Special, Valentina and her Italian-bred nine-year-old gelding were unfazed by the festive late night atmosphere following a day and night of Global Champions Tour jumping at this French Riviera resort that is a favorite of celebrities.
"Yes, we did a good job today," Valentina said after her ride. "My horse was much more relaxed because he is better adapted to the program of the Grand Prix Special, as there is more passage and extended trot, which are the things he's good at... thus he was naturally more relaxed."
Cannes was the launching pad in 2008 for the world's richest lineup of dressage competitions that has grown to five premier CDI5* competitions this year, each one with prize money of €100,000. Falsterbo, Sweden, has been added to the calendar this year and is followed by the 2010 finale at Hickstead, England.
Cannes also kicks off the second year of the €25,000WDM Rider Award sponsored by Nürnburger Versicherungsgruppe that goes to the combination with the most points won at Cannes, Falsterbo, Sweden, and Hickstead, England in 2010 and Palm Beach, USA, and Munich, Germany in 2011.
The €60,000 Grand Prix Freestyle will be held late Saturday night.
Related Links
Scores 2010 CDI Cannes
Werth and Warum Nicht Win WDM Grand Prix at the 2010 CDI Cannes