What's Happening in the Dressage World?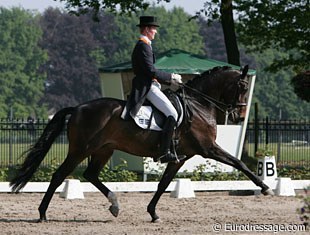 Diederik van Silfhout's Young Riders horse Ruby suffered from a serious bout of colic and was operated on at the Equine clinic in Utrecht on Friday 16th October 2009. The mare (by Gribaldi) was given very little chance for survival but she pulled through. Ruby started to colic on Friday round noon time and was immediately transported to Utrecht for observation. On Friday night her conditioned worsened and she had be operated on. The mare stayed in Utrecht for ten days to recover and will need several months to recover.
European Pony Champion Antoinette te Riele has sold her second FEI pony to England. Danny Boy B (by Flying Dream) was the 2008 Dutch Outdoor Pony Champion. Te Riele purchased the pony herself in Germany from Friederike Hahn. The chestnut gelding now sold to England to 12-year old Erin.
Madeleine Witte-Vrees has announced the retirement of her 12-year old Dutch warmblood Patser (by Jazz x Ariban). The impressive bay, who was competed at small tour level, sustained an injury two years ago and it took until for him to recover. Vrees competed her 2001 and 2002 Pavo Cup Champion in the Tinello Cup one month ago but the injury flared up again. Witte has now decided to retire the horse to the field.
Richard Davison was very pleased moderating the 2009 Global Dressage Forum. He told British Dressage the following: "I have moderated at each of Global forums for the past nine years so it's interesting to compare the development," said Davison. "This time around I really had the feeling that people felt everything was up for discussion. All issues were discussed with respect and recognition for differing opinions. I have always strongly believed that the Global Dressage Forum is THE open face-to-face universal forum and as delegates travel thousands of miles to attend, nothing should be swept under the carpet." We had some hot topics this year and whether they come in the first five minutes, or the last, doesn't matter to me as long as they are aired and people have their say as to the development of their sport. The quality of the technical presentations and expertise behind them was outstanding," he added.
The Finalists for the British Dressage Young Professional's Award have been selected. After three very successful training days, six riders have been selected to go through to the final of the British Dressage Young Professional's Award - the new scheme which aims to identify and assist young professionals in their development with the dressage industry. Richard Davison, Gareth Hughes and Jennie Loriston-Clarke each hosted one of the selection days and were also instrumental in the selection process. View the finalists here
British Horse Society Chairman Patrick Print has written to FEI President, HRH Princess Haya, to demand an investigation into the circumstances surrounding the apparent distress of Patrick Kittel's horse at Odense earlier this month, and into the ethics of rollkur more generally. Click here to read the letter. The video of Kittel riding Scandic in the rollkur with the horse's tongue having limp and blue from the mouth has caused a whirlwind of reactions online. Several petitions have been started, either against the rollkur as well as in favour of Kittel.
At the 2009 Elite Auction for Holsteiner horses in October the young dressage mareCountess (by Carabas x Lorentin x Calypso) sold for a staggering 70,000 euro. The dark bay mare, bred by Wilhelms Kochs, sold to an Austrian dressage rider
Canadian Olympian Jacqueline Brooks has been named the Dressage Canada Red Scarf Equestrian Athlete of the Month for October. Brooks won the Grand Prix and placed second in the Grand Prix Freestyle at the CDI–W/Y/J at the prestigious CDI Dressage at Devon, held September 22–27, 2009, in Devon, PA, USA. Riding her up-and-coming Grand Prix mount Balmoral (by Belcanto x Consul), a 10-year-old Canadian-bred Hanoverian owned by John & Anne Welch and Mary & Eric Brooks, Brooks earned a score of 66.936% for the win in the Grand Prix for Freestyle test. The duo then performed a very strong Freestyle to earn 69.800% for second place. "I am very pleased to be named Athlete of the Month. This is a great program that promotes athletes and their hard work," said Brooks, who has been riding Balmoral since he was a five-year-old and has trained him to Grand Prix. "It is fantastic that Red Scarf Equestrian sponsors this award and makes a big deal when Canadian Dressage riders are successful."
Photo copyrighted: Mary Phelps/Phelpsphotos.com
The 21-year old Polish bred thoroughbred stallion Stravinsky xx (by Revlon Boy xx-Taurow xx) has passed away. The black stallion suffered from chronic laminitis and died at his home in England. Stravinsky xx raced in Poland from 1990 till 1992 and had a phenomenal 7 wins, 6 seconds, 5 thirds and 6 fourths. He then had a very successful career in Dressage where he competed to Prix St Georges in Sweden and Intermediare II in Denmark/ Prior to arriving in the UK in 2006 Stravinsky had been standing at stud in Sweden, Denmark, Germany and Holland.
Edelgans, the price highlight colt of the KWPN Foal Auction in Borculo, hasreturned to his breeder Huub van Helvoirt (breeder of elite stallion Jazz). The Danish Blue Hors stud paid an impressive 50,000 euro for this black colt by Jazz x Ulft x Amor but upon arrival in Denmark it was noticed that the colt had injured himself during transport. Vets detected a fractured splint bone. Though the foal is not hindered by his injury, owner Blue Hors and breeder Van Helvoirt agreed to annul the acquisition. Edelgans' full sister Andy was the 2008 KWPN Elite Mare Champion.
The black mare Blof (by Painted Black x Cabochon) won the 3-year old mare under saddle competition in The Netherlands called De Valk Bioderij Cup. The gorgeous black mare had three outstanding basic gaits. Baronijke L (by Vivaldo x Krack C) became reserve champion.