FEI Dressage News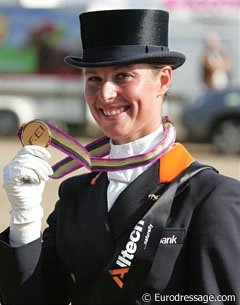 Dutch European gold medallist Adelinde Cornelissen has mainted her lead position in the FEI Riders' Ranking for the second month.
The 30-year old rider from Beilen, The Netherlands, captured the first place on the ranking thanks to her team and individual gold medal at the 2009 European Dressage Championships in August. She leads the ranking with 2253 points.
Second placed Isabell Werth has not moved position as she has been unable to compete her Satchmo due to her suspension following a positive doping test on her small tour horse Whisper and due to her pregnancy. She covers second place with 2249 points.
Werth commented that her life is going a bit slower now which is normal with a pregnancy, but that she is still very active in her stable. "I still ride a little, but just for relaxation," she admitted. "The training of the horses is now done by my team." Werth mentioned that she's now busy full-time with teaching. "Many thing that because I'm pregnant I have a lot of time. But that's not true. I train my people at the stable. It's interesting to see all the horse from the ground. I fear I'm not made to do nothing."
Edward Gal and Totilas stayed in third place, which they captured after the Europeans with 2204 points. The only change in the top 10 ranking is the seventh and eight place. Isabell Werth and Anky van Grunsven swapped positions with Warum Nicht and Painted Black.
September 2009 - Riders' Ranking (top 20 only)
1. (1) Cornelissen, Adelinde - Parzival - NED 2253
2. (2) Werth, Isabell - Satchmo - GER 2249
3. (3) Gal, Edward - Totilas - NED 2204
4. (4) Van Grunsven, Anky - Salinero - NED 2171
5. (5) Peters, Steffen - Ravel - USA 2145
6. (6) Bechtolsheimer, Laura - Mistral Hojris - GBR 2104
7. (8) Van Grunsven, Anky - Painte Black - NED 1948
8. (7) Werth, Isabell - Warum Nicht - GER 1936
9. (9) Rath, Matthias Alexander - Sterntaler Unicef - GER 1875
10. (11) Minderhoud, Hans Peter - Nadine - NED 1855
11. (10) Theodorescu, Monica - Whisper - GER 1833
12. (12) Schellekens-Bartels, Imke - Sunrise - NED 1807
13. (13) Kyrklund, Kyra - Max - FIN 1804
14. (14) Max-Theurer, Victoria - Augustin OLD - AUT 1784
15. (15) Hindle, Emma - Lancet - GBR 1771
16. (16) Holzer, Ashley - Pop Art - CAN 1754
17. (17) Zu Saeyn-Wittgenstein, Nathalie - Digby - DEN 1728
18. (18) Salzgeber, Ulla - Herzruf's Erbe - GER 1698
19. (21) Kittel, Patrick - Scandic - SWE 1684
20. (19) Minderhoud, Hans Peter - Escapado- NED 1655
Related Links
Parzival Crushes Totilas' Ten Minute GP Special World Record
Adelinde Cornelissen, Head Turner of the 2008 CDIO Aachen
Adelinde Cornelissen Out, Parzival Injured at 2008 World Cup Finals