2009 Swiss Young Horse Championships
Bugatti G, Darko of De Niro and Del Cuore have won the 2009 Swiss Young Horse Championships held at the Swiss National Equestrian Centre in Avenches, Switzerland, September 17-20, 2009.
In the 4-year old division Markus Graf steered his own liver chestnut stallion Bugatti G (by Belissimo M out of Isa Romana W (by Rohdiamant) to the national title. The young stallion, which is bred by Christoph Suter, excelled in both championship rounds, winning the first class with 8.13 and the second with 7.70. His overall total of 7.91 was plenty to put him in a strong lead. Michele Rotondo's chestnut gelding Dimitri Florinov (by Florestan x Donnerprinz) finished in runner up position with a total average of 7.65. This horse is bred by Brigitte Bisig and was presented by Gilles Ngovan.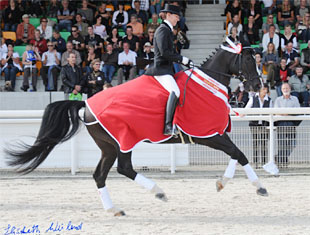 Isabel Jüstrich and the impressive black gelding Darko of De Niro (by De Niro out of Diana (by Gagneur x Isidore) strutted his stuff to win the 5-year old division. Bred and owned by Thomas and Mauz Zellweger, Darko scored 8.08 in round 1 and 7.62 in round 2 to finish on a total of 7.85. The winners' pair was chased to the end by Gilles Ngovan aboard Christine Ernst's chestnut mare Fee VI (by Feinsin x Davignon). Bred by Otto Kocherhans, Fee VI finished second twice to land in the reserve champion's spot with 7.81.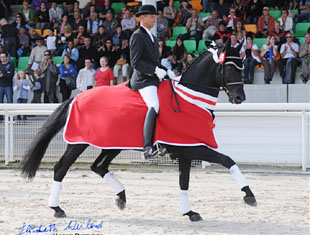 The 6-year old dressage horses were not judged like the 4- and 5-year olds on their gaits, rideability and general impression, but had to perform a technical test. Gilles Ngovan and Christine Ernst's Del Cuore (by Dr. Doolittle x Weltmeyer) were unbeatable. They scored 69,67 in the first round and 73.02 in the second to finish on 71.34. Del Cuero is bred by Michael and Meret Eser-Wehrli. Markus Graf became the reserve champion with the bay stallion Ravel G (by Rubinels x Rohdiamant). Bred by Albin Fuchs-Schönbächler, this stallion scored 66.89 in round 1 and 66.56 in round 2 to place second with a 66.73 total.
Photos copyrighted: Elisabeth Weiland - Horsepictures.ch
Results
4-year old Dressage Horses
Horse - Rider - Total score
Scores: trot - canter - walk - rideability - general impression - total
1. Bugatti G (Belissimo M x Rohdiamant) - Graf Markus - 7.91


Round 1: 8.8 8.5 7.0 8.2 -- 8.13 (1)
Round 2: 8 7.5 7.5 7.8 -- 7.70 (1ex)

2. Dimitri Florinov (Florestan x Donnerprinz) - Ngovan Gilles - 7.65

Round 1: 7.5 7.5 8.5 8.5 -- 8.00 (2)
Round 2: 7.3 7.1 8 6.8 -- 7.30 (5)

3. Sidonie IV (Rubinels x Rohdiamant) - Hofmann Melanie - 7.53

Round 1: 7.0 7.0 8.2 7.3 -- 7.38 (6) 
Round 2: 7.6 7.2 8.2 7.7 -- 7.68 (3)

4. Kamee (Summertime x Benz) - Ngovan Gilles - 7.51

Round 1: 7.8 7.7 7.8 8.0 -- 7.83 (3)
Round 2: 6.8 7.2 7.3 7.5 -- 7.20 (6)

5. GB Espresso (Escondido x Notabel) - Hofmann Melanie - 7.30

Round 1: 6.2 7.4 7.0 7.0 -- 6.90 (11.ex)
Round 2: 7.5 7.5 8 7.8 -- 7.70 (1ex)

6. Atlanta Al Martino (Al Martino x Pik Holiday) - Hofmann Melanie - 7.14

Round 1: 8.0 7.5 5.3 7.0 -- 6.95 (9)
Round 2: 8.2 7.2 6.6 7.3 -- 7.33 (4)

6. Meike van de Weide (Sir Oldenburg x Rutheford xx) - Schmid Sabrina - 7.14

Round 1: 7.7 7.2 7.2 7.7 -- 7.45 (4)
Round 2: 6.9 6.7 7 6.7 -- 6.83 (10)

8. Forsythia (French Kiss x Mykonos xx) - Weber Romy - 7.13

Round 1: 6.8 7.5 8.0 7.3 -- 7.40 (5)
Round 2: 6.7 7 7.2 6.5 -- 6.85 (9)

9. For You de Pegase (For Pleasure x Quatro V) - Steulet-Rossé Véronique - 7.00

Round 1: 6.5 7.0 7.5 7.0 -- 7.00 (8)
Round 2: 6.7 7.1 7.2 7 -- 7.00 (7)

10. Well Dandy (Well Done x Jabot) - Suter Dominique - 6.94

Round 1: 6.5 6.8 7.5 6.8 -- 6.90 (11.ex)
Round 2: 6.5 7 7.8 6.6 -- 6.98 (8)

11. Stedi King Fluswiss (Stedinger x Noble Roi xx) - Schröder Christiane - 6.91

Round 1: 6.7 7.0 8.0 7.0 -- 7.18 (7)
Round 2: 6.8 6.4 7.4 6 -- 6.65 (12)

12. Rosalie II (Riccione x Alfa) - Rothenfluh Susanne - 6.80

Round 1: 7.0 6.9 6.7 7.0 -- 6.90 (11.ex)
Round 2: 6.7 6.8 6.5 6.8 -- 6.70 (11)

13. Aquilino's Son (Aquilino x Avanti III) - Eger Miriam - 6.66

Round 1: 7.2 7.5 6.2 6.8 -- 6.93 (10)
Round 2: 6.4 7 6 6.2 -- 6.40 (13)
5-year old Dressage Horses
Horse - Rider - Total score
Scores: trot - canter - walk - rideability - general impression - total
1. Darko of De Niro (De Niro x Gagneur) - Jüstrich Isabel - 7.85


Round 1: 8.4 8.5 7.5 7.5 8.5 -- 8.08 (1)
Round 1: 8.0 7.9 7.3 7.2 7.7 -- 7.62 (3)

2. Fee VI (Feinsinn x Davignon) - Ngovan Gilles, Grasswil - 7.81


Round 1: 8.2 8.0 7.3 7.8 8.3 -- 7.92 (2)
Round 2: 8.4 7.7 6.8 7.8 7.8 -- 7.70 (2)

3. Darek (Dressage Royal x Capo) - Hartmann Imgrüt Brigitte - 7.33 


Round 1: 6.8 7.0 7.0 6.7 7.0 -- 6.90 (7)
Round 2: 7.8 7.4 7.8 7.8 8 -- 7.76 (1)

4. Forest Gump (Florestan x Prinz Wilhelm) - Graf Markus - 7.24 


Round 1: 7.0 6.5 7.5 6.7 6.9 -- 6.92 (6)
Round 2: 7.8 6.8 7.8 7.7 7.7 -- 7.56 (4)

5. Flying Angel II (Florestan x Rubinstein I) - Hartmann Imgrüt Brigitte - 7.20 


Round 1: 7.5 7.0 6.9 6.7 7.0 -- 7.02 (5)
Round 2: 7.5 7.2 7.4 7.2 7.6 -- 7.38 (6)

6. Don Camilo II (Dressage Royal x Hill Hawk xx) - Hauenstein Pascale - 7.14


Round 1: 6.7 6.7 7.8 6.4 6.6 -- 6.84 (8ex)
Round 2: 7 7.5 8 7.2 7.5 -- 7.44 (5)

7. De Caprio von Buchmatt (Don Frederico x Wolkenstein II) - Hofmann Melanie - 7.02


Round 1: 7.0 7.7 6.9 6.8 7.1 -- 7.10 (3ex)
Round 2: 7.4 6.7 6.5 7 7.1 -- 6.94 (7ex)

8. Nijinski Florinov (Florestan x Donnerprinz) - Rindlisbacher Caroline - 6.90


Round 1: 7.1 6.8 7.3 7.0 7.3 -- 7.10 (3ex)
Round 2: 7.0 6.5 7.4 6.2 6.4 -- 6.70 (11)

9. Carina A (Carino x Ramiro's Bube) - Somazzi Verena - 6.83


Round 1: 6.8 6.8 6.6 6.6 6.8 -- 6.72 (11)
Round 2: 7.1 6.8 6.8 7.0 7.0 -- 6.94 (7ex)

10. Goldbach Ginger (Granulit x Courage) - Isenschmid Jasmin - 6.79


Round 1: 6.6 7.0 7.2 6.5 6.8 -- 6.82 (10)
Round 2: 6.4 6.8 7.2 6.8 6.6 -- 6.76 (10)

11. Goldbach Danburit (Dressage Royal x Levantos) - Isenschmid Jasmin - 6.70


Round 1: 6.6 6.4 7.2 6.2 6.4 -- 6.56 (12)
Round 2: 6.6 7.2 7.2 6.5 6.7 -- 6.84 (9)

12. Romance d'Agibert (Rubens du Ri d'Asse x Avanti III) - Heimann Sylvia - 6.66


Round 1: 7.0 7.2 6.7 6.5 6.8 -- 6.84 (8ex)
Round 2: 6.5 6.7 6.1 6.6 6.5 -- 6.48 (12)
6-year old Dressage Horses
Horse - Rider - Round 1 - Round 2 - Total
1. Del Cuore (Dr. Doolittle x Weltmeyer - Ngovan Gilles
2. Ravel (Rubinels x Rohdiamant) - Graf Markus
3. Destiny's Dream II (De Niro x Weltruhm) - Rothenfluh Susanne
4. Dressman von Buchmatt (De Niro x Quai du Manoir) - Hofer Angela
5. Rivaldo Blu v. Seeland (Rubin Royal x Wandango) - Simonet Corinne
6. Darkness of Glory (Dream of Glory x Gagneur) - Ludäscher Andrea
7. World Dressage Fluswiss (Dressage Royal x Weltmeyer) - Rindlisbacher Caroline

63.56- 64.38 -- 63.67 (8)

8. Taormina II (Weltfeuer x Traumdeuter) - Walder Franziska
9. Denzel (Dream of Glory x Don Primero) - Voser Han
10. Libertino II (Laudatio x Regazzoni) - Voser Hans
11. Weihaiwej (Wandango x World Cup III) - Zbinden Myrta
12. Montana (Maizauber x Der Clou) - Cattin Anita
Related Links
Scores of the 2006 Swiss Young Dressage Horse Championships
Fiesta de Lully, Weltgraf II and Wicento Win 2004 Swiss Young Horse Championship