Danish Dressage News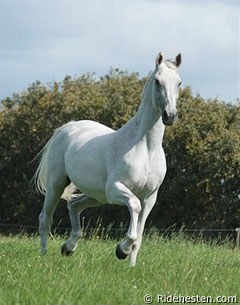 She has had a fantastic dressage career but now it's over. Blue Hors stud manager Esben Møller has announced that Blue Hors will be ceasing all attempts to get WEG silver medal winning mare Matine back in competition form.
The mare got injured at the 2007 World Cup Finals in Las Vegas and veterinarians have not been able to get her perfectly sound again. Blue Hors has now pulled the plug and decided that Matine can be a real "horse". She will be a brood mare at Blue Hors Stud in Randbøl, Denmark.
"We've done all that is imaginable and there has been periods that we believed she would be a competition mare again," Esben Møller told the Danish magazine Ridehesten. "Last time we treated her in the spring and we decided that if it wouldn't work now, that would be it. It's not a respectable horse's life."
The spring (aqua) treatment did not produce the hoped results. "Enough is enough. We've had fantastic results with her and now she can be a horse in the herd," added Møller. "It was quite exciting to see Matine's first time in the herd, but it looks like this temperamental mare has really settled in quickly in her new surroundings."
The next half year, Matine will just spend in the herd and then she'll become brood mare next spring. "We won't flush any eggs from Matine. We just want her to be in foal and have the foal on the ground herself. I believe it'll be good for her mind," said Møller. "Hormone treatments for embryotransfer are very stresssful for mares."
Møller concluded, "Matiné has had enough of injections and examinations, she will now be allowed to find peace being a normal horse."
Blue Hors Matine had a stormy career at Grand Prix level. Her first year at Grand Prix was in 2005 where she already made headlines as the new shooting star. In 2006 she won the Danish Championships and team bronze, individual silver and bronze at the World Equestrian Games in Aachen. Half a year later at the 2007 World Cup Finals in Las Vegas she tripped off the trailer and injured herself. She never returned to the show ring.
Top Photo copyrighted: Ridehesten.com
Related Links
Blue Hors Matine Not to Compete at the 2008 Olympic Games
Helgstrand to Ride Blue Hors Don Schufro At 2007 E.C. Turin
Andreas Helgstrand and Blue Hors Matine Withdraw at 2007 World Cup Finals
Andreas Helgstrand got misquoted in the German press on Matine's condition 
Blue Hors Matine Sold?
Matine, 2002 Danish Young Horse Dressage Champion