2009 European Dressage Championships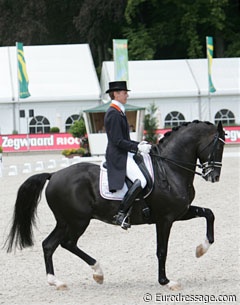 The Dutch Equestrian Federation (KNHS) has announced that the Dutch team will definitely be decided upon after the CDIO Hickstead, which takes place this weekend. After Hickstead chef d'equipe Sjef Janssen will announce the team that will compete at the 2009 European Dressage Championships in Windsor, GBR, at the end of August.
Janssen has organized two selection trials, the Dutch Dressage Championships in De Steeg and the CHIO Rotterdam in June. Hickstead will be the final trial. Besides the selection of the team, a few pairs will be nominated as reserves.
"I want to look at a few more combinations in Hickstead before informing the Topsport Committee Dressage (TCD) about my choice. They will consider my advice and present a team to the Dutch Equestrian Federation, which makes the final decision," said Janssen.
Janssen will hold a training camp in August for the team and the reserve combinations. He keeps the option open that those riders will participate in the CDI Hansbeke before the European Championship. Hansbeke will not be a selection trial.
"My team will be fixed after Hickstead and only in case of an injury or a withdrawal, I will call upon a reserve," Janssen explained.