2009 European Dressage Championships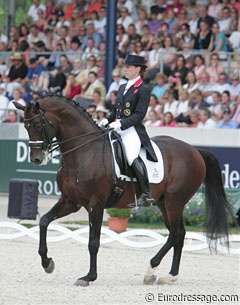 British Dressage has selected three of the four dressage riders who will represent Equestrian Team Great Britain at the 2009 European Dressage Championships, which takes place at Windsor Castle from the 25th – 30th August.
The selected dressage riders are:
Laura Bechtolsheimer riding her own and Dr Wilfried Bechtolsheimer's Mistral Hojris
Carl Hester riding Donald McTaggart's Liebling II
Emma Hindle riding her own Lancet
All three team members were thrilled with the selection. "This year will be especially exciting as the championships are on home turf," said Laura. "Mistral Hojris has been on fantastic form and his consistency this season has given me great confidence."
Carl described how much he was looking forward to competing in a home Championships: "It will be the first time I've ridden at a major championship in the UK and I'm really looking forward to being a part of it. I'll be training hard over the next five weeks and hoping for a smooth preparation in the run up to Windsor"
Emma Hindle, who was part of the Bronze medal winning team in Aachen described her excitement following the selection: "It's an honour to be selected and I really believe in our team. It's always great to have a championship in England and to ride in front of the home crowd will be amazing."
The fourth member of the team and the reserves will be announced at the end of July.
Back to the 2009 European Dressage Championship index