Hanoverian Auctions in Verden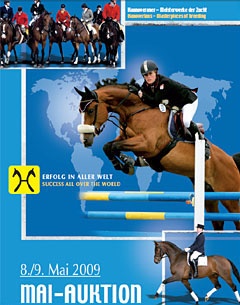 Eighty-eight Hanoverian riding horses will be put up for auction on Saturday May 9 2009 as of 3.00 pm in the Niedersachsenhalle in Verden, Germany.
Only three weeks after the 120th Elite Auction, the May collection features many top-class horses for all demands, going from immediate starts at competitions to leisure riding.
Successful starts at tournaments will be no coincidence with the five-year-old scopey show jumping mare Gysir's Liberty, by Geysir x Landadel (breeder: Paul Forkert, Bremen), or with the six-year-old all-rounder Florencia, by Florianus x Davignon (breeder: Rudolf and Reinhard Boesch, Buelkau).
Legolas by Le Primeur x Werther (breeder: Hartmut Meyer, Laatzen) is full brother to state stud stallion Labiat. He descends from the successful dam line of the licensed stallion Wishing. The relatives of Elastic by Escudo x Werther (breeder: Helmut Habermann, Uetze-Haenigsen) is even more impressive as he is half brother to the internationally successful show jumping horse Elwood by Espri with Carsten-Otto Nagel.
The dressage horse collection features offspring of tried and tested stallions like Londonderry, Hochadel, Rotspon and Don Crusador. Fisher 's Fritz by Fishermans Friend x Borneo (breeder: Arno Klie, Einbeck) already confirmed his above-average movement and strong nerves as show horse at Equitana in March 2009. The first-class dressage abilities of state stud stallion Rascalino become obvious when watching his son Roosevelt (breeder: Albert Kampert, Halle). He has also a perfect dressage background with Rosentau on dam's side.
The horses can be inspected and tested upon prior arrangement as of April 27. 
For more information please call our contact- person in England Carolin Saynor 0044-790-182-670-7