American Dressage News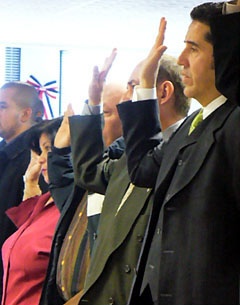 In a ceremony held at the U.S. Citizenship and Immigration Services in Newark, New Jersey, on Friday, December 12, dressage rider Dr. Cesar Parra took the Oath of Allegiance for Naturalized Citizens and was sworn in as a United States citizen.
Dr. Parra, who represented his native Colombia at Olympic Games, World Equestrian Games, Pan American Games, and World Cup Finals, will now focus on representing the U.S. in international dressage competition.
"I'm very happy," beamed Dr. Parra. "This is a dream. We've been waiting for this for many years. I have to do all the paperwork to switch the citizenships and I've already contacted USEF - they are very happy about it. I'm working on my U.S. passport so I have it and am ready to fly!"
Dr. Parra, with his wife and their two children, has resided in the U.S. for nine years. Dr. Parra's son Federico, age 15, automatically received his citizenship on December 12. Dr. Parra's wife Marcela and their daughter 18-year-old daughter Nicole are eligible for citizenship and will likely take the oath within the next three months.
Attaining U.S. citizenship has been a nine-year goal for Dr. Parra. He arrived in the U.S. in 1999 and immediately applied for permanent residency. He established Performance Farm - a dressage training, showing, coaching, and horse sales business - in Whitehouse Station, New Jersey, and Jupiter, Florida. Per U.S. requirements, Dr. Parra waited seven years after applying for residency to apply for citizenship and then waited an additional two years to receive the letter announcing that he could take the oath.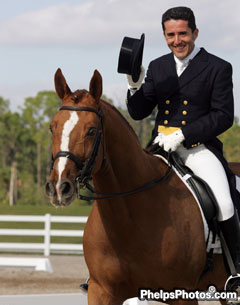 As a competitor based in the U.S. but representing Colombia, Dr. Parra competed at the 1999 Winnipeg Pan American Games in Canada, where he helped Colombia earn the Team Silver Medal and was fifth individually; 2002 Jerez World Equestrian Games in Spain; 2003 Santo Domingo Pan American Games in Santo Domingo, where he was fourth individually; 2004 Athens Olympic Games in Greece; 2005 Las Vegas World Cup Final in the U.S.; and 2006 Aachen World Equestrian Games in Germany.
"I've been very blessed to be a Colombian rider because it gave me the opportunity to be in so many places and compete in so many shows," Dr. Parra said. "The experience I gained being a Colombian rider is fantastic, but now my goal is to represent the U.S. America is my adopted country and my home. I also want to devote more time to coaching and training people and horses. That's basically where I have the most enjoyment - helping to make good riders. I really love doing that."
Heading into the 2009 winter show season in Florida, Dr. Parra has three world-class mounts ready for the ring - Florence, a five-year-old Westphalian mare owned in partnership by Dr. Parra and Dr. Jackson Morgan and Mrs. Carolyne Morgan; Stonefire 1074, a 10-year-old Swedish Warmblood gelding owned by David and Taunia Reed; and his own Furst Fabio, a nine-year-old Rhinelander gelding.
Dr. Parra will show Florence in the FEI Six Year Old Young Horse classes. "Florence is a very, very good young horse. If Scott Hassler [the National Young Horse Dressage Coach] determines that she's a good candidate to represent the U.S. at the 2009 World Championships for Young Dressage Horses in Verden, Germany, and we win that honor, I'd love to do that," Dr. Parra said. "If not, I know for sure that she's a world-class Grand Prix horse."
Dr. Parra will compete Stonefire in the Prix St. Georges and Intermediaire I. As a former stallion, Stonefire was highly successful in the Breed Show at Dressage at Devon, claiming Grand Champion Stallion of the Year honors in 2007. "My hope is that he develops into a good international horse," said Dr. Parra. "He will be showing Grand Prix this coming summer."
Dr. Parra will also show Furst Fabio in the small tour during the winter and make his Grand Prix debut during the summer. "Honestly, I think there are very few horses like him in the world," Dr. Parra noted. "But let's see how it goes. We're going to take it easy now and be conservative about our expectations. From now on, with all these horses, I really have a clear goal, so I want to go slowly but surely. I want to have solid results."
After taking the oath for his citizenship, Dr. Parra enjoyed two celebrations - a luncheon with his family and friends after the ceremony on Friday, and then a double celebration on Sunday. "Marcela's birthday was on Sunday, so we waited until then to go to Manhattan with the kids," Dr. Parra said. "We went to a nice All-American restaurant at the Rockefeller Center and we had a great time!"
Bottom photo copyrighted: Phelpsphotos.com
Related Links
Making Dressage a Family Affaire
A Walk on the Premises of Dr. Cesar Parra
A Fresh Start for Dr. Cesar Parra with New Horses
Dr. Cesar Parra and Horses Unlimited Go Separate Ways