2008 Young Rider World Cup Final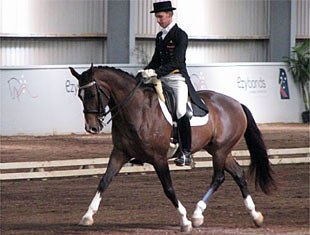 Jayden Brown and his 9-year-old gelding Widelo (by Weltmeyer x Rocadero) have been selected to represent Australia and the Asia/Africa Pacific region at the 2008 FEI Young Rider Dressage World Cup in Germany.
The Final is to be held in Frankfurt (GER) from 17-21 December.
A maximum of 14 riders - in our case up to two from our region and only one from each National Federation can participate in the final. Jayden and Widelo won all 3 CDIY Freestyle competitions in Australia this season to qualify.
19-year-old Jayden of Bellbowrie (Qld) represented Australia in the 2007 Lion Foundation New Zealand Young Rider Championships Trans Tasman Friendly Derby gaining the highest score overall. He also competed with Alycia Targa (last year's Australian rep in the FEI YR World Cup final) this year in the New Zealand Tri-Nations Cup (a borrowed horse competition) where Australia finished 2nd.
Jayden will be based with Leonie Brammall in Germany who he has trained with for some time.
"I have based myself and Manni at Leonie Bramall's stable as I have worked for her a few times in the past and feel really confident in the routine and training here," Brown said. "The girls here had everything ready for Manni's arrival so he was able to get settled straight into his stable and rest after the trip."
Brown has been having the trip of a lifetime in Germany. "Since bringing Manni back up to full work after a week of very light exercise we have been quite busy with a competition in Elmshorn and also being apart of a training seminar with Jo Hinneman.  The competition had some good points and some weaknesses but the most important thing was to get him out so the Leonie could see how he reacts in a competition atmosphere and also what the judges would like to see improved. It was a little bit of a strange feeling warming up with Karin Rehbein and Holga finken, thankfully they were competing in a different class.  The canter work in our PSG test went really well and was rewarded with all 7's and 8's but there were a lot of small error's in the trot and walk.  Leonie and I weren't too bothered by the small mistakes as he only arrived in the country 9 days earlier so we expected that he would still be adjusting.  We ended up placing 5th in the PSG and 6th in the Kur with a rug, ribbon and plaque to bring home as a little souvenir."
"After the competition we had another few easy days and then back up to full work.  Leonie was scheduled to be apart of a training seminar with her former trainer Jo Hinneman, so the horses from the barn here were going to be used as the example horses.  We took 5 horses all together, the two 3yo's San Serano who was ridden by Leonie's Bereiter; Furstin Bolera ridden by me.  Two 5/6yo's,  Athena Rubella again ridden by Leonie's Bereiter,  Donna Antonia who was ridden by Leonie.  I also rode Manni in the medium/Advanced section."
"It was a fantastic evening with about 400 people attending and a great chance to get some more time in a competition arena full of people. So now we are gearing up for the main event, the YR final in Frankfurt. We will drive Manni down to Frankfurt to settle him in.  I am really looking forward to being at such a huge event, with the CDI-W and also the Nurnburg Burgpokal final which will no doubt have some amazing horses competing."
Related Links
Jessica Rhinelander to Represent Canada at 2008 FEI Young Rider World Cup
Laura Noyes Wins U.S. Young Rider World Cup League and Goes to Frankfurt