2008 ECCO Cup Finals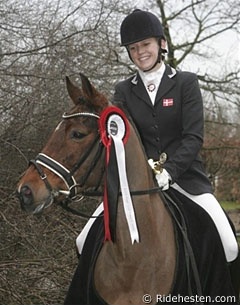 FEI Pony Riders Nanna Skodborg Merrald and Anna Tange, Junior Rider Cathrine Dufour and Young Rider Anna Kasprzak became the grand champions of the 2008 ECCO Cup Finals held at Vallensbaek Equestrian Centre in Vallensbaek, Denmark.
The ECCO Cup is a special show circuit in Denmark for FEI Youth Riders in which they can practice their kur to music in competition at several selection trials leading up to one annual cup finals. The ECCO Cup is sponsored by Hanni Toosbuy Kasprzak, ceo of the Danish Ecco shoe company.
The FEI pony riders' category was split up into two divisions according to the ponies' height: the D-category ponies (142 cm - 148 cm) and a category for ponies below 141 centimeter. The Grand Champion of the big FEI Pony division was Nanna Skodborg Merrald aboard her 10-year old Danish bred pony Centrum. She won the two Cup rounds, though finished second in the warm up round behind Rikke Lindberg on Brooklands Moonwalker.
Merrald scored 70,8% in the first finals' round and achieved an impressive 74,5% in the kur finals, which made her the overall winner. Her dark bay gelding Centrum is bred out of a pony dam paired to the Danish warmblood stallion Robin (by Rambo), a unique winning breeding combination advised by Danish breeder Niels Therkelsen of Byagergaard.
Anna Fabricius Tange and her tiny but powerful Kosmo Ike were unbeatable in the below 141 cm pony division. They won all three rounds with solid upper sixty scores of 68,9%, 69,3% and 69,9%. Tange has recently acquired a taller pony called Tim, the 2008 European Pony Championships individual bronze medallist, which she will show extensively in the 2009 season.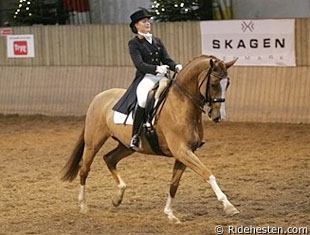 In the Junior riders division, Cathrine Dufour proved that she has made a fluent transition from ponies to horses. Aboard the Swedish bred chestnut gelding Cadillac (by Oldtimer xx), Dufour took first place in all three rounds pulling a score advantage between 2 and 4% with the second placed combination. Rikke Sofie Bøllingtoft and Celester (by Casanova) finished second overall while the current Danish Junior Champion Camilla Orloff landed a third place with her dark bay stallion Maneur (by Schwadroneur).
Anna Kasprzak, heir to the ECCO shoe imperium, won the 2008 ECCO Cup Finals in the Young Riders' division. Aboard the Westfalian breeding stallion Blue Hors Future Cup (by Florestan), Kasprzak was only challenged by Anna Kathrine Elkjær-Holm and Sofie Jeppesen but took the overall title with solid scores of 68.9% and 73.8% in the Kur Finals. Elkjær-Holm and her new horse Bernstein (by Banditentraum) finished second overall with a first place in the first round (69,7%) and a fifth spot in the Kur Finals (68,0%). Sofie Jeppesen did not saddle her Danish warmblood stallion Robin but chose to compete Hedebo's First As (by First Flair) for the Ecco Cup Finals. She slotted in third overall with strong marks of 67,3% and 71,0%.
Photos copyrighted: Ridehesten.com
Results
FEI Pony Riders - Warm Up Round the Ecco Cup Finals
Brooklands Moonwalker - Rikke Lindberg - 71,3
Centrum - Nanna Skodborg Merrald - 69,4
Dhi Peppino - Nadia Winter - 66,3
Dornick-Son - Sofie Hougaard - 65,3
Modderbeek´S Flo - Trine Stuhr - 64,0
Berlinetto - Christina Møller - 63,9
Odbjergs Idol - Charlotte Aarestrup Bruun - 63,6
Camina´s Maccoy - Thea Katinka Dyrbjerg - 63,5
Firfod Jacob Klaphat - Karoline Riisager - 63,2
Nathan - Sofie Østergaard Buch - 62,8
Lucas - Frederik Gregers Dannisgård - 62,8
Armando - Nanna Bronnée Madsen - 61,9
Imagine - Louise Lynge Rasmussen - 60,9
Kalita - Anna Westergaard Jensen - 60,1
Højgårds Spirit - Maja Petersen - 59,7
Bonaparte - Victoria Faber Stuhr - 59,3
FEI Pony Riders - Round 1 of the Ecco Cup Finals
1 Centrum - Nanna Skodborg Merrald - 70,8
2. Armando - Nanna Bronnée Madsen - 68,3
3. Nathan - Sofie Østergaard Buch - 68,2
4. Brooklands Moonwalker - Rikke Lindberg - 68,
5. Dornick-Son - Sofie Hougaard - 66,9
6. Kalita - Anna Westergaard Jensen - 66,5
7. Proud Don Caruso - Nynne Ebbenæs - 66,0
8. DHI Peppino - Nadia Winter - 66,0
9. Lucas - Frederik Gregers Dannisgård - 65,4
10. Firfod Jacob Klaphat - Karoline Riisager - 64,3
11. Modderbeek´S Flo - Trine Stuhr - 64,2
12. Berlinetto - Christina Møller - 63,8
13. Camina´s Maccoy - Thea Katinka Dyrbjerg - 63,6
14. Odbjergs Idol - Charlotte Aarestrup Bruun - 63,1
15. Højgårds Spirit - Maja Petersen - 62,3
16. Imagine - Louise Lynge Rasmussen - 60,9
FEI Pony Riders - KUR FINALS of the Ecco Cup Finals
1. Centrum - Nanna Skodborg Merrald - 74,5
2. Brooklands Moonwalker - Rikke Lindberg - 72,7
3. Dornick-Son - Sofie Hougaard - 71,6 3
4. Modderbeek´S Flo - Trine Stuhr - 69,3
5. Lucas - Frederik Gregers Dannisgård - 69,2
6. Berlinetto - Christina Møller - 67,8
7. Armando - Nanna Bronnée Madsen - 67,7
8. Dhi Peppino - Nadia Winter - 66,1
9. Proud Don Caruso - Nynne Ebbenæs - 65,9
10. Nathan - Sofie Østergaard Buch - 65,6
11. Kalita - Anna Westergaard Jensen - 65,4
12. Firfod Jacob Klaphat - Karoline Riisager - 64,8
13. Odbjergs Idol - Charlotte Aarestrup Bruun - 64,8
14. Camina´s Maccoy - Thea Katinka Dyrbjerg - 63,0
15. Højgårds Spirit - Maja Petersen - 60,2
16. Imagine - Louise Lynge Rasmussen - 59,9
FEI Pony Riders - Ecco Cup Finals -Warm Up Round for Ponies below 140cm
Kosmo Ike - Anne Fabricius Tange - 68,9
Aavangs Camaro - Sandra Selsmark - 64,4
Prinsen Boji - Karolina Petersen - 63,2
Lady - Jessica Vang Starbeck - 62,5
Aester Estupenda - Maria Knudsen - 62,3
Bonfire (Duncan) - Sofie Thode - 62,2
FEI Pony Riders - Ecco Cup Finals - Round 1 for Ponies below 140cm
1. Kosmo Ike - Anne Fabricius Tange - 69,3
2. Aester Estupenda - Maria Knudsen - 65,2
3. Lady - Jessica Vang Starbeck - 64,3
4. Aavangs Camaro - Sandra Selsmark - 63,8
5. Bonfire (Duncan) - Sofie Thode - 63,3
6. Prinsen Boji - Karolina Petersen - 61,8
7. Odbjergs Imitz - Maria Rosenbak Jensen - 59,8
FEI Pony Riders - Ecco Cup Finals - KUR Finals for Ponies below 140cm
1. Kosmo Ike - Anne Fabricius Tange - 69,9
2. Aavangs Camaro - Sandra Selsmark - 68,8
3. Lady - Jessica Vang Starbeck - 65,3
4. Bonfire (Duncan) - Sofie Thode - 65,3
5. Aester Estupenda - Maria Knudsen - 64,8
6. Odbjergs Imitz - Maria Rosenbak Jensen - 63,4
7. Prinsen Boji - Karolina Petersen - 63,3
FEI Junior Riders - Warm Up Round Ecco Cup Finals
Cadillac - Cathrine Dufour - 70,2
Maneur - Camilla Orloff - 68,3
Cavalér - Simone Ahlers Pedersen - 66,8
Laurentius - Cecilie Stengelshøj Madsen - 65,0
Mosegårds Rico - Michelle Dahl Andersen - 64,8
Romar - Marie-Louise Larsen - 64,8
Langagers Lorambo - Josefine Friberg - 64,6
Zorina Z - Julie Dankau - 64,4
Adhesive´s Hudson - Camilla Blicher - 64,1
Goonshine Alfarvad Z - Nana Christine Christiansen - 63,9
D-Day - Anne Sofie Aaen - 61,7
Machell - Patricia Hvidt - 58,3
FEI Junior Riders - Round 1 Ecco Cup Finals
Cadillac - Cathrine Dufour - 68,6
Maneur - Camilla Orloff - 66,9
Celester - Rikke Sofie Bøllingtoft - 66,1
Cavalér - Simone Ahlers Pedersen - 64,9
Langagers Lorambo - Josefine Friberg - 64,0
Romar - Marie-Louise Larsen - 64,0 5
Laurentius - Cecilie Stengelshøj Madsen - 63,9
Mosegårds Rico - Michelle Dahl Andersen - 63,3
Zorina Z - Julie Dankau - 62,7
Hot Shot - Karina Holdt Andersen- 62,0
Adhesive´S Hudson - Camilla Blicher - 61,9
Goonshine Alfarvad Z - Nana Christine Christiansen - 61,8
D-Day - Anne Sofie Aaen - 60,8
FEI Junior Riders - Ecco Cup Finals - KUR Finals
1. Cadillac - Cathrine Dufour - 72,5
2. Celester - Rikke Sofie Bøllingtoft - 68,6
3. Maneur - Camilla Orloff - 67,2
4. Laurentius - Cecilie Stengelshøj Madsen - 66,7
5. Cavalér - Simone Ahlers Pedersen - 66,7
6. Romar - Marie-Louise Larsen - 66,0
7. Hot Shot - Karina Holdt Andersen - 65,0
8. Mosegårds Rico - Michelle Dahl Andersen - 64,8
9. Langagers Lorambo - Josefine Friberg - 63,9
10. Zorina Z - Julie Dankau - 63,4
11. Goonshine Alfarvad Z - Nana Christine Christiansen - 63,1
12. D-Day - Anne Sofie Aaen - 62,3
13. Adhesive´s Hudson - Camilla Blicher - 60,2
FEI Young Riders - Warm Up Round for Ecco Cup Finals (combined with seniors)
Blue Hors Future Cup - Anna Kasprzak - 69,3
Horsebo Smarties - Michael Søgaard - 67,9
Pari-Cash Foldager - Michael Søgaard - 67,1
Bernstein - Anne K. Elkjær-Holm - 66,9
Falcon Lyngriis - Thomas Sigtenbjerggaard - 66,5
Ratzo - Camilla Bill Rasmussen - 65,7
Stenkærgårds Don Juez - Louise Juul Andersen - 65,6
Atterupgaards Molberg - Sanne Henningsen- 65,1
Königs Kronos Ks - Camilla Ploug Larsen - 64,8
Webster - Louise Juul Andersen - 64,3
Hedebo´s First As - Sofie Jeppesen - 63,6
Dawina - Mette Hviid Schultz - 63,3
Nivea Stauslykke - Louise Mølby - 63,0
Danielo - Ann-Sofie Berger - 63,0
Vesuv - Sacha Hansen - 62,8
Schianto - Sidsel M. Johansen - 62,5
Ørevadbros Don Pedro - Heidi Graarup Jensen - 60,9
Matrix - Marie Dige Søgaard - 60,8
Flying Diamond - Camilla Blicher - RET
FEI Young Riders - Round 1 Ecco Cup Finals
1. Bernstein - Anne K. Elkjær-Holm - 69,7
2. Blue Hors Future Cup - Anna Kasprzak - 68,9
3. Hedebo´S First As - Sofie Jeppesen - 67,3
4. Dawina - Mette Hviid Schultz - 65,8
5. Königs Kronos Ks - Camilla Ploug Larsen - 65,8
6. Matrix - Marie Dige Søgaard - 65,3
7. Stenkærgårds Don Juez - Louise Juul Andersen - 63,9
8. Ratzo - Camilla Bill Rasmussen - 63,7
9. Nivea Stauslykke - Louise Mølby - 63,5
10. Minos - Mette Pedersen - 63,1
11. Vesuv - Sacha Hansen - 62,5
12. Ørevadbros Don Pedro - Heidi Graarup Jensen - 59,6
FEI Young Riders - Ecco Cup Finals - KUR Finals
1. Blue Hors Future Cup - Anna Kasprzak - 73,8
2. Hedebo´S First As - Sofie Jeppesen - 71,0
3. Königs Kronos Ks - Camilla Ploug Larsen - 70,2
4. Stenkærgårds Don Juez - Louise Juul Andersen - 68,3
5. Bernstein - Anne K. Elkjær-Holm - 68,0
6. Ratzo - Camilla Bill Rasmussen - 67,4
7. Dawina - Mette Hviid Schultz - 66,5
8. Vesuv - Sacha Hansen - 66,3
9. Minos - Mette Pedersen - 65,3
10. Ørevadbros Don Pedro - Heidi Graarup Jensen - 64,3
11. Nivea Stauslykke - Louise Mølby - 64,2
12. Matrix - Marie Dige Søgaard - 63,0
Related Links
The Ecco Cup Prepares Danish Youth Riders for the International Show Scene
Merrald Leads Denmark to Team Bronze Medal
Scores 2004 ECCO Cup Finals