2008 U.S. Young Horse Championships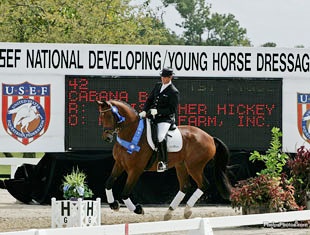 Selten HW, Winsor and Cabana Boy captured the title of U.S. young Horse Champion at the 2008 U.S. Young Horse Championships in Lexington, Kentucky, September 12-14, 2008.
In the final day of competition with fierce winds gushing around 50 miles an hour, it were Nicole Bellah and Winsor who prevailed by winning the five-year-old championship division while Christopher Hickey and U.S.-bred Cabana Boy swept the six-year-old division of the 2008 U.S. Young Horse Dressage Championships.
In the five-year-old division, Bellah and her horse Winsor came into the final phase of the competition with a strong score in the preliminary class and finished with a total score of 8.028. Winsor (by San Remo out of Para Lady by Julio Mariner) is a dark bay Dutch Warmblood stallion who was bred in The Netherlands by PPW Janssen.
Despite the winds, Bellah felt very good about her test. "It was super challenging," said Bellah. "Actually, when I rode, it was just starting to pick up so it wasn't near as bad. And, unfortunately for the other riders, it was really kicking around."
Bellah bought Winsor in June 2007 in The Netherlands and at that time, he was only broke to walk, trot and canter. Since then, she has made quick progress with him.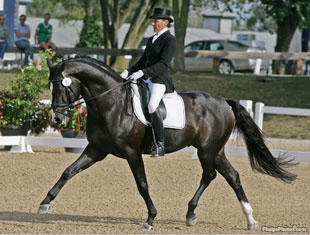 After some encouragement from friends, Bellah decided to show Winsor in the five-year-old division, even though this was only Winsor's fourth show in his career and her first championship. After sizing up the competition, Bellah was not confident that they could win their division, but in the end, they proved that they were worthy of the championship title.
Bellah did not hesitate when asked if she would return with Winsor for the six-year-old division of the Young Horse championship.
"After the experience now and understanding more of what it's about and what it's for, absolutely, absolutely," said Bellah. "It was a great experience."
Securing Reserve Champion in the five-year-old division was Joe Sandven and Ronatella S with a final score of 7.844. Sandven etched out Lientje Schueler and Lucky Girl BC, who also had a total score of 7.844. In the event of a tie, the U.S.-bred horse receives the top spot but in this case, Sandven and Schueler both had German-bred horses. It then becomes up to the three judges to discuss and determine the final outcome, which in this case was Sandven and Ronatella. Ronatella (by Rotspon out of Ronja by Raphael) is a black Hanoverian mare owned by Helen Wiest and bred in Germany by Dieter Loch.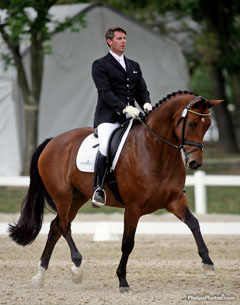 In the six-year-old division of the Young Horse championship, Hickey and Cabana Boy topped the competition by placing first in both phases of the championship, ending with a total score of 8.74. Owned by Hilltop Farm, Cabana Boy (by Contucci out of Britania by Bordeaux) is a bay Hanoverian gelding bred in the U.S. by Doug and Shannon Langer.
If fighting the wind was not enough, Hickey encountered some other problems, including having his hat blow off during the test along with an error on course. Even so, Cabana Boy was unfazed and his performance was strong enough to secure the championship.
"I'm very happy with my horse," said Hickey. "He came out and did his job. The mistakes in the ring today were mine. I got a little flustered and second guessed myself and went off course when I should have listened to my first instinct—I was right the first time. My hat fell off but in a good place. I was able to go around it everywhere."
Hickey plans to give Cabana Boy some more "miles" to help bring him along so that he can take him to a higher level of competition.
"I think he has an amazing attitude and an incredible work ethic," said Hickey.
Hickey plans to bring Cabana Boy back to the National Dressage Championship again next year along with two other horses.
In the Reserve Champion spot were Shannon Peters and Weltino's Magic with a total score of 8.212. This was Peters first time at the competition, which proved to be successful with the help of Weltino's Magic, who handled the test very calmly despite the winds. Weltino's Magic (by Weltino out of Diva by Diamond Boy) is a bay Westfalen gelding bred in Germany by Willi Holter and owned by Jen Hlavacek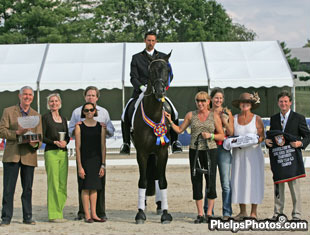 Claiming the title in the four-year-old division were Michael Bragdell and Selten HW, besting 19 other horses to win with a score of 8.56.
Bragdell and Selten HW came into this competition in first place after qualifying. Bragdell decided to ride in the optional warm up class the day before the championship, which helped him and Selten HW get a feel for the arena along with the overall show environment— ultimately they placed first in the class.
"I was pretty confident that he would be okay with all the stuff but you never know— it's a four-year-old," said Bragdell.
Selten HW (by Sandro Hit out of MS High Princess by Hohenstein) is a black Hanoverian stallion owned by Cadence, LLC., and was bred in the U.S. by Irene Hoeflich-Wiederhold. Selten HW has been at Hilltop Farm since he was a yearling and Bragdell, who is a trainer at Hilltop, started him when he was three years old. Though lightly shown, Selten HW's accomplishments have been big, including starting off his show career with a Reserve Champion at the Devon Horse Show when he was only two years old.
"He's such a super horse," said Bragdell. "He just goes in there, the winds blowing… I felt the wind gust kind of grab a hold of me and he still is just clucking along like nothing. That's the part I love about him—the trainability. He just goes wherever I point him."
Bragdell described Selten HW's personality as very easy going and he knew the horse was special when he sat his first canter on him.
"His canter is unbelievable," said Bragdell. "I guess it takes you away. It's truly an incredible feeling.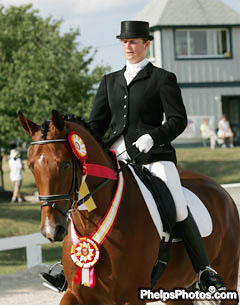 Bragdell hopes to build on Selten HW's success and return to the Young Horse Dressage Championship next year to compete in the five-year-old division.
Taking the Reserve Champion spot was Emily Gershberg and her horse Zatino H with a score of 8.24. Zantino H (by Sir Sinclair out of Karma by Equador) is a bay Dutch Warmblood gelding who was bred by J.A. de Haas in the Netherlands. This was Gershberg's first time showing at the Young Horse championship and she had nothing but praise for her horse when asked about their performance.
"I was very happy with it today," said Gershberg. "I think I have a wonderful, wonderful horse. He's been extremely consistent. He's got a super temperament—he's always been super. He's like a big Labrador—he wants to be in your pockets, he loves attention…. He's just a wonderful easy, easy going horse but when you get on him and you ride him and you ask him for a little, he's there."
More Coverage and Interviews on this championship at Dressagedaily.com
Related Links
Scores of the 2008 U.S. Young Horse Championships
Guenter Seidel and U II Win the 2008 US Developing Horse Championship