2008 Bundeschampionate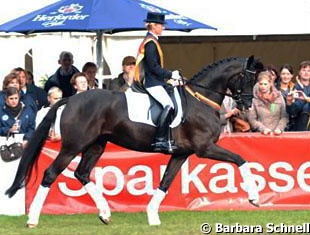 Silberaster OLD, Florence and Bertoli W scored big at the Bundeschampionate Qualifier in Münster, June 13-15, 2008. The 5-year old dressage horse division was split into two groups; Silberaster OLD and Florence were the winners of it.
Double Bundeschampionate champion and Oldenburg Elite Mare champion Silberaster OLD won group 1 with and 8.4 score. Previously shown to the Bundeschampion title by Helen Langehanenberg, Silberaster is now in man's hands ridden by Langehanenberg's boyfriend Sebestian Heinze. Notorious for the nasty, mean behaviour openly displayed at both Bundeschampionate finals in Warendorf, the black Oldenburg mare by Sandro Hit has fantastic gaits and scored 8.4 at the trial in Münster. Heinze beat Martin Stamkötter on Ehrenstolz (by Ehrentanz x Ferragamo), who achieved 8.1. Erik Bültjer and La Festa (by Lord Sinclaire x Matcho AA) placed third with 8.0. He tied with Bettina Weitkamp-Neuhaus on Fridolin (by Fidermark x Dream of Glory).
Arnd Erben, a former Kampmann stable rider, won group 2 with 8.2 aboard Florence, a Westfalian mare by Florestan x Northern Sound xx. Birgit Wittig and Balmoral W (by Breitling) placed second on 8.1. Helen Langehanenberg and Pepsi, a Trakehner mare by Cadeau x Sixtus) finished third with 7.8.
Brigitte Wittig was in a winning mood on Bertoli W, a Breitling stallion bred by her husband Wolfram. She won the 6-year old Dressage Horse class with 8.4. Jutta Zimmermann and First Step (by Fidermark) received 8.3 from the judges and placed second. Helen Langehanenberg and the 2007 Bundeschampion Furst Khevenhuller (by Florestan x Rohdiamant) now had to settle for third place with 8.2. Jörg Dietrich also scored the magical 8.0 mark with Atlet (by Aljano x Cor de la Bruyere).
Photos copyrighted: Barbara Schnell
Results
5-year old Dressage Horses - Group 2
1 Silberaster Old - Heinze,Sebastian - 8.4
2 Ehrenstolz - Stamkötter,Martin - 8.1
3 La Festa - Bültjer,Erik - 8.0
3 Fridolin - Weitkamp-Neuhaus,Bettina - 8.0
5 Fritz van Alfen - Hermes,Marcus - 7.8
6 Delight - Kitzing,Jenny - 7.7
7 Feeling - Andreassen,Ken Juel - 7.6
8 San Sierra - Haverkamp,Sina - 7.5
8 Stuart - Olerink,Tina - 7.5
10 Utopia H - Vidal,Juan Manuel - 7.4
11 Louis White - Hoffstadt,Daniel - 7.3
11 Doctor - Klimke,Manuela - 7.3
11 Havanna Flair - Schreckenberg,Heike - 7.3
14 Diamond Boy V - Laak,Norbert van - 7.2
14 Design for Life - Welschof,Dorothee - 7.2
16 Lord of Lauries - Bräutigam,Deike - 7.1
17 Fresh Up - Hubernagel,Romina - 7.0
18 Rastina - Simon,Desiree - 6.9
18 Calisto - Harke,Olaf - 6.9
20 Henny Hennessy - Gorski,Manuela - 6.8
21 Running Man - Dirks,Nina Maria - 6.6
5-year old Dressage Horses - Group 2
1 Florence - Erben,Arnd - 8.2
2 Balmoral W - Wittig,Brigitte - 8.1
3 Pepsi - Langehanenberg,Helen - 7.8
4 Fengh-Shui - Horstmann,Anne7.7
4 De Petite - Westendarp,Ines - 7.7
6 Wincento - Fleischmann,Fritz - 7.6
6 Don Royal - Ossner,Christina - 7.6
8 Liciano - Koschel,Christoph - 7.5
8 Aurelia - Weston,Peter John - 7.5
10 Salazar - Burger,Katrin - 7.3
11 Forum Drei - Hansen,Insa - 7.1
12 Chatmann - Dr. Weisbrod Dr.,Katja - 6.8
6-year old Dressage Horses
1 Bertoli W - Wittig,Brigitte - 8.4
2 First Step - Zimmermann,Jutta - 8.3
3 Fürst Khevenhüller - Langehanenberg,Helen - 8.2
4 Atlet - Dietrich,Jörg - 8.0
5 Kaspaar - Hoffstadt,Daniel - 7.9
6 Ludwig - Bodenkamp,Ellen - 7.6
6 Friedchen - Börsting,Stefanie - 7.6
8 Dominique - Kitzing,Jenny - 7.5
8 Darlington - Klimke,Michael - 7.5
10 Mambo - Mormann,Hiltrud - 7.4