2008 World Championships for Young Dressage Horses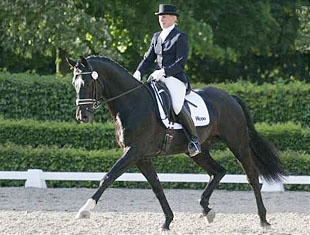 In Sweden, the selection trials for the 2008 World Championships for Young Dressage Horses have started with a first qualifier in Flyinge on May 28, 2008. Stallions Impuls and Scharmeur impressed at the event by showing themselves
to be the best 5 and 6-year old presented dressage horse.
In the 5-year old division Malin Rinné and Scharmeur stunned the audience and the judging panel, consisting of Susanne Rudholm and Bo Jenå. Scharmeur, who is by the trakehner stallion Schwadroneur out of a Napoleon dam, scored 87.6 points and won. Minna Telde and Wladimir O.A.(by Flemmingh x Florestan) finished second with 80.8. Camilla Larsson and the mare Daphna (by Blue Hors Hertug x Master) landed a third place with 76.4.
The black Swedish warmblood stallion Impuls impressed in the 6-year old dressage horse class. Under Erna Axelsson, the black Master x Chapman scored a winning 76,6 points. Ebba von Essen and Vision (by Briar x Vivaldi) captured a second place with 72,8, followed by Jennifer Svensson on Spiderman (by Prestige x Master) on 71,2.
Results of the Qualifier
5-year olds
1 Malin Rinné - Scharmeur - 87,600
2 Minna Telde - Wladimir O.A. 1 - 80,800
3 Camilla Larsson - Daphna - 76,400
4 Helena Nilsson - Double Diamond II - 75,000
5 Jennifer Svensson - Nurejev - 74,000
6 Tundi Andersson - Feel Good - 72,600
6 Maria Von Essen - Prima - 72,600
8 Mia Runesson - Rolex TP - 72,400
9 Charlotte Haid-Bondergaard - Donna samba - 69,400
10 Maria Von Essen - Bris - 69,000
10 Tina Becker - Dorano - 69,000
12 Helen Persson - Mr DJ - 68,400
13 Jonathan Medin - Dijon - 67,800
6-year olds
1 Erna Axelsson - Impuls - 76,600
2 Ebba Von Essen - Vision - 72,800
3 Jennifer Svensson - SpiderMan - 71,200
4 Marika Martinsson - Salomon - 71,000
5 Pernilla André - Wennica - 70,800
5 Maria Von Essen - Maldini - 70,800
7 Mattias Jansson - Maine - 68,200
8 Maria Röcklinger - Minou Hit SB - 67,800
8 Louise Lilja - Veldroos - 67,800
10 Lotta Wallin - La Primette - 64,000
11 Amanda Meijer - Don Pronto - 63,600
Photo copyrighted: Sara Holmgren for Tidningen Ridsport
Back to the 2008 WCYH Index