2008 Preis der Besten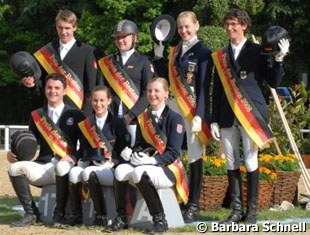 Sanneke Rothenberger and Konrad were fresher than last year, and so nice. They took home the Preis der Besten sash for the second time in a row. Sönke Rothenberger showed four beautiful tests with textbook style and considerateness. Bravo! With Deinhard he placed second, with Wimbledon fifth.
While the three medallist riders put in wonderful riders, several other established German top ponies were not showing themselves at their best in Warendorf. Germany was once the ruling pony nation, but this year big cracks showed up in their "unteachable" state.
In Warendorf, visitors got to see resistent ponies which have succumbed under the pressure of competition. Biggest example is the 2007 European Pony Champion, Dornik B under Katharina Weychert. The 2007 European Pony Champion Dornik B has deteriorated much in a year time. At the Preis der Besten, he looked overweight which has resulted in back problems because his saddle doesn't seem to fit him anymore. Also one of his flanks had a fifty-cent-piece-sized piece of blank skin from relentless spur use, and an edema around it with the thickness of a fried egg. His mouth was constantly open, his ears flattened and his head tilted during the tests. Not a trace of the lightness and grace he showed under his previous rider Louisa. Nobody understood the  scores the judges gave him for such an mediocre ride.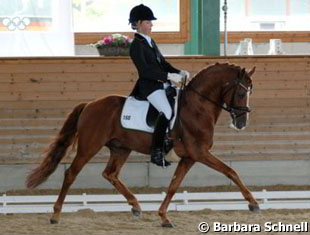 Florine Kienbaum on Going East were a promising pair. "Gogo" has never been an easy pony, despite his awe-inspiring gaits. With Florine, he has now found a rider who seems understand him perfectly. The two placed fifth in the overall ranking -- and there's room for improvement yet, because they haven't been training together for long.
Dornik Double, another pony not on form at the Preis der Besten still finished high (7th). While he does great extensions, his basic trot 
is his weakest spot. Instead of building on this strengths, though, they are viciously trying to make him trot. Sadly in Warendorf, this had resulted in the rider kicking and pushing him through the tests until he showed irregularities in the rhythm.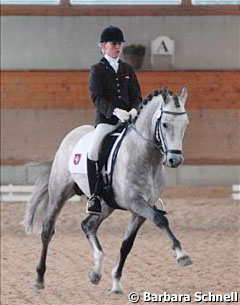 Last year's now 7-yr-old Bundeschampion Doubtless and Mali de  Sainte Fare. This pair that could have everything, the pony is  gorgeous, and the girl has a lovely style. However, this seven year old pony was the only one of the PdB starters that had to compete in the Pony Dervy a week earlier. So, in the first test, he already showed  mild signs of overstretched nerves, simply refusing to go a couple of times. Mali then returned to the war-up arena with him for another training unit. The result: In the second test, his displeasure became plain rebellion, and he just shot off with her.
Newcomer Viktoria Braun didn't quite make the A-team yet, but she made it as far as the PdB with two ponies (of 18 altogether), which is no mean feat. With some more experience, we'll surely see them again. The ponies are Dein Freund and Voyager.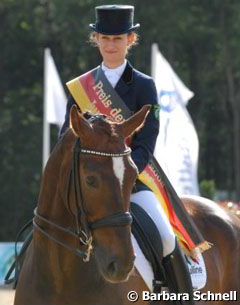 Louisa Lüttgen made a seamless transition from Pony to Junior division -- coached by Stefanie Meyer-Biss, who also tranied her when she was still riding Dornik B, she was lucky to find a horse (Danish-bred Oldenburg mare Dreamy by Donnerhall) that is not only wonderful, but also very similar in character to Dornik. They won both tests and marched right through to the top.
Thea Felicitas Müller and Highway (one of several great Hohenstein x Weltmeyer horses) were the shooting stars of the Junior division. They placed fifth in the preliminary test and then showed a dazzling freestyle that moved them right up to the silver rank. Given his sure-footed, elegant performanes, the fact that Highway is blind is now a mere, if remarkable footnote. What is so convincing here is the absolute harmony between gorgeous horse and talented rider.
Sanneke Rothenberger was the only rider to be honred twice at the final price-giving ceremony, once for winning in the pony division with Konrad, the second time for winning bronze in the Junior division with Paso Doble.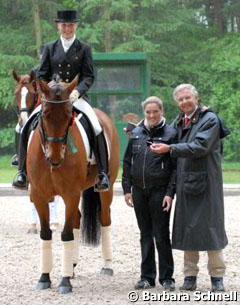 Kathleen Keller and the dark bay gelding Florestan won the Young Riders Preis der Besten.
Ann-Kristin Dornbracht and Gryffindor. These two didn't only win bronze in the Young Riders division, but they were also awarded a style-price for their thoughtful preparation in the warm-up arena, where they were coached by Ellen Schulten-Baumer 
All photos copyrighted Barbara Schnell
No Reproduction Allowed without Permission/Payment
Text by Astrid Appels for Eurodressage.com
Related Links
Scores 2008 Preis der Besten
Qualificants for the 2008 Preis der Besten
Hassenburger, Dennert and Fehlings, Siebert Win 2008 Preis der Besten Qualifier in Vechta
Rothenberger Dominates 2008 Kronberg Preis der Besten Qualifier