2008 Bundeschampionate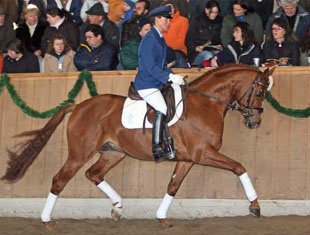 The first Bundeschampionate qualifier of the season for the 2008 Bundeschampionate kicked off this weekend at the Munich Horse Festival CDI Munich in South Germany. The first winners were Locksley III and FBW Moses, which obtained an entry ticket to the Finals in Warendorf.
In the 5-year old division, Friederike Schulz-Wallner scored the highest mark and won the class. Aboard the Hanoverian stallion Locksley III (by Londonderry x Weltmeyer), Wallner achieved 8.7 and placed first in a class with 18 competitors. Nadine Plaster and Desperado won the preliminary round and ranked second in the actual qualifier. The black Oldenburg gelding by Dressage Royal x Rouletto x Barsoi xx scored 8.40. As a 4-year old Desperado sold for 210,000 euro at the Vechta Elite Auction to Plaster. Victoria Max-Theurer was the third rider who obtained a ticket for the Bundeschampionate by scoring 8.0 or higher. Aboard the Sandro Hit offspring Scarlett VMT, Vici achieved 8.10.
In the 6-year old Dressage Horse division only one horse scored the qualification mark and that is Bundeschampion FBW Moses. Under Dr. Susann Konrad the Baden Wurttemberger bred gelding by Metteur x Ragazzo pushed for power with an 8.5 mark. Swedish Pernilla Markusson placed second aboard Moliere, a chestnut Westfalian stallion by Munchhausen.
Results
5-year old Dressage Horses
1. Locksley III - Schulz-Wallner,Friederike - 8.70
2. Desperado - Plaster,Nadine - 8.40
3. Scarlett VMT - Max-Theurer,Victoria - 8.10
4. Deauville -Schwanz,Uwe - 7.90
5. Für Immer - Boos,Christina - 7.60
6. Rodolfo - Stechele,Maximilian - 7.60
7. Donna - Kronaus,Kerstin - 7.50
7. Radcliffe - Schulz-Wallner,Friederike - 7.50
9. Rentagroup's Rudolph - Schwanz,Uwe - 7.30
10. Welttraum - Peter,Susanne - 7.20
10. Fürst Scheurenhof - Wadenspanner,Walter - 7.20
12. Hot Chocolate vF - Fircks,Johanna von - 7.10
13. Florence - Graupner,Nicole - 7.00
14. Adele - Kohl,Julia - 6.90
15. Don Royal - Ossner,Christina - 6.90
16. Loxley - Graupner,Nicole- 6.50
17. Degas - Bauer,Amelie - 6.20
18. Donna de Nira - Eschstruth,Stephanie - 6.00
6-year old Dressage Horses
1. FBW Moses - Konrad Dr.,Susann - 8.50
2. Moliere - Markusson,Pernilla - 7.80
3. Le Carino - Kun,Jana - 7.50
3. Rockport vF - Zeppke,Anna - 7.50
5. Montepiano II - Kempkes,Matthias - 7.40
5. Fantastic - Krauspe,Andrea - 7.40
7. MFN's Ferrero Kiss - Schwanz,Uwe - 7.30
7. Wonapalai - Rakelbusch,Gerdi - 7.30
9. Alchemist - Sessler,Alexandra - 6.80
9. Riccoletto - Kempkes,Matthias - 6.80
11. Lord of Lennox vF - Zeppke,Anna - 6.40
12. Lissandro - Jonas,Constanze - 6.30