KWPN Breeding News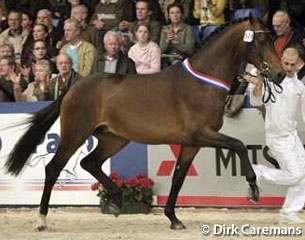 For the third year in a row, a Rousseau offspring became champion of the KWPN Stallion Licensing. This year, A.T. Rensen's bred Ajong was proclaimed Licensing Champion in 's Hertogenbosch, The Netherlands, on February 2, 2008.
Ajong is a beautiful dressage prospect by Rousseau out of a Flemmingh dam. The stallion moves with much engagement and is naturally uphill. He is a correctly moving champion with an outstanding conformation. The bay stallion is owned by the trio Nico Witte, Tamerus Beheer and Reesink Horses
Reserve champion of the licensing was Amigo, a UB40 x Krack C offspring bred by A.A. van de Koppel. This colt moved with much power and pezzazz. The third ranked stallion became Amarillo (by Tuschinski x Negro) who moved with much expression. This black colt is bred by P. Wijlaars. Other dressage colts in the premium ring were Armani (United x Jazz), Amazing Star (Flemmingh x Ferro) and an unnamed colt by Uphill x White Star.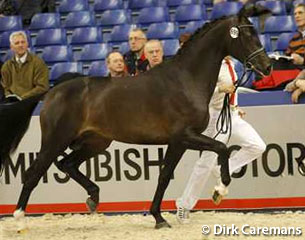 At the KWPN Select Sale, the auction following the licensing, the third placed stallion Amarillo became the price highlight of the auction. He sold for 200,000 euro but has been purchased back by the owner. The same story happened with the second highest priced horse Armstrong M. This UB40 x Sandro Hit offspring sold for 190,000 euro back to his owner Mr. Lisma. Initially the sale of Amarillo was not mentioned in the official press release of the Select Sale because a purchase back by the owner is not an official sale. Two days after the auction, it became known that Armstrong M also sold back to the owner. The best selling stallion then turned out to be the approved Special D x Sandro Hit colt. He sold for 125,000 euro to the IPS group of Ad Valk, Joop van Uytert, Mr. Kelders and Erwin Samuels. Stable Wijdewormer purchased two stallions, including the Rousseau x Ramiro Z for 56,000 euro.
Photos copyrighted: Dirk Caremans
Related Links
Zagreb, Champion of the 2007 KWPN Stallion Licensing 
Wamberto, Champion of the 2006 KWPN Stallion Licensing
Coverage of the 2005 KWPN Stallion Licensing and Select Sale 
Ustinov and Uptown, 2004 KWPN Stallion Licensing Champions
Tornado, Champion of the 2003 KWPN Stallion Licensing
First KWPN Select Sale at 2001 KWPN Stallion Licensing
Symfonie, 2002 KWPN Licensing Champion
Paddo, 2000 KWPN Stallion Licensing Champion