2007 Belgian Dressage Championships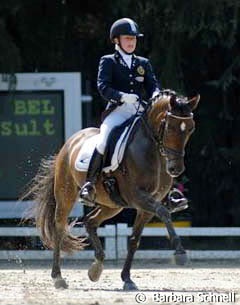 Julie van Olst, Mieke Mommen, Yoni de Souter, Julie de Deken and Jeroen Devroe are the new 2007 Belgian Dressage Champions. These riders claimed the gold medal in their division at the 2007 Belgian Dressage Championships at Wim Verwimp's equestrian facility in Wiekevorst
, Belgium, August 9-12, 2007.
Aboard Haasendonk's Sultan, pony rider Julie van Olst reigned supreme in the FEI Pony disvion. She won the team test and Kur to Music, but placed second in the individual test behind Jorinde Verwimp on Tonkawa. Overall, Van Olst scored 213.018 points, almost a full four percent ahead of silver medallist Verwimp. Laurence Roos and the former Belgian pony champion Derengo won bronze.
In the junior riders division, Mieke Mommen and Rocky were undefeated in all three tests. Elly Rohart and Sir Cloud landed on silver medal position, while Mieke's siter Julie Mommen won bronze with Nero de la Fazenda.
Young Rider Yoni de Souter won the team test and Prix St Georges, but in the freestyle Laurens Vanderbeeken and Tisja Pia van de Bergerhoeve topped the leader board. De Souter still claimed the gold, while Vanderbeeken won silver and last year's junior rider gold medallist Anouck Hoet now got the bronze.
At small tour level, 2007 Cup of Belgium winners Julie de Deken and her Westfalian gelding Fazzino added yet another trophy and title to their ever growing list of achievements. Trained by Tineke and Imke Bartels, De Deken won the Prix St Georges and Intermediaire I with 70% + scores and placed second in the kur. The pair became the small tour champions. Hannelore Volders and her Oldenburg gelding Real Magic placed second, while Vicky Smits and former Belgian Young Horse Champion Daianira van de Helle ranked third.
The Grand Prix title went to Jeroen Devroe and Paganini. The combination faced tough competition from Francoise Hologne Joux on Born, who won the Grand Prix Special and Kur to Music. Devroe's Grand Prix score secured the national champion's title for him, his third consecutive one. Joux obtained the silver medal and Stefanie Vantieghem-Blevi on Nachim van de Gravenhoeve got bronze.
"This was a championship of bad luck but I'm happy I persevered till the end," Jeroen Devroe said. "Paganini had a small injury and was soar in the muscles right before the Belgian Championships. The circumstances were far from ideal and I had to take that into account. I rode very conservatively and it was the experience that made us win the title." According to Devroe, Françoise Hologne was the moral winner of the Championships. "This makes it regrettable that she didn't win the championship, but now she'll have plenty of confidence for the European Championships. I still have some work to do," Devroe added.
Photo copyrighted: Barbara Schnell
Related Links 
Report on the 1997 Belgian Dressage Championships
Belgian AA Talent Plan and AA Talent Team Created