2007 European Dressage Championships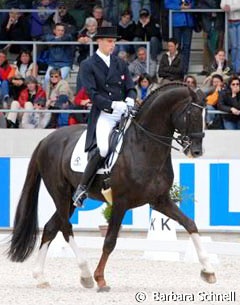 Danish Grand Prix team rider Andreas Helgstrand has announced that he won't be riding Blue Hors Matine at the 2007 European Dressage Championships in Turin, Italy, August 29-September 2, 2007.
His World Equestrian Games silver and bronze medal winning horse Blue Hors Matine is still injured and will not be fit by the end of August. Instead, Andreas will be representing Denmark with the Oldenburg stallion Blue Hors Don Schufro.
Helgstrand was supposed to ride Blue Hors Don Schufro at the 2007 Danish Dressage Championships July 27-29, 2007, but because the horse will now go to the European Championships, he rode Casmir instead and claimed his third national champion's title.
"The plan for the moment is to take Blue Hors Don Schufro to the European Championships. I want to have him completely ready for it and we're coming near to that. This implies that Blue Hors Matine is not ready for the Europeans. The injury she sustained in Las Vegas is taking more time to heal then expected. That's why we are going to wait with showing her until she is 100% ready. The next big show for her will be the 2008 Olympic Games," Helgstrand commented.
Photo copyrighted: Astrid Appels/Eurodressage
Back to the 2007 European Championship Index