2007 World Cup Finals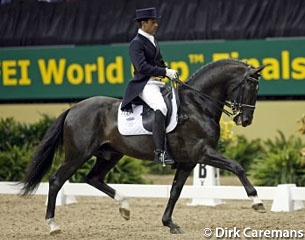 The field was small, only four competitors, but impressive with Daniel Pinto of Portugal winning the consolation competition, the Rolex FEI Grand Prix Freestyle B-Final as part of the 2007 Rolex FEI World Cup Finals at the Thomas & Mack Center in Las Vegas.
The class was open to all horses who did not qualify for the Final on Saturday. Pinto and his Lusitano stallion, Galopin de la Font, received a score of 71.650.
"I am extremely happy to be in the World Cup Final and touched by the reaction of the public," said Pinto. "It is an honor for the breed and good for the World Cup to have such an exotic horse."
The music that Pinto chose was as exotic as his horse featuring a bullfighting theme. Pinto chose the music because it reminded him of dressage.
"Bullfighting on horses is very similar to that in dressage, where the horse must be in control at all times."
Wayne Channon of Great Britain was second riding Lorenzo scoring 68.500. Third went to Evi Strasser of Canada and Quantum Tyme with 67.750.
Earlier in the day, the Invitational FEI Grand Prix class was held that was open to US horses and riders. The winner of the class was Mette Rosencrantz of California riding her Dutch Warmblood Basquewille. Rosencrantz received a score of 63.542. Michael Barisone and Neruda were second with 63.042 and Kristina Harrison-Naness was third on Rociero XV scoring 61.625.
Rosencrantz was thrilled with her win as well as the experience in Las Vegas. "To win today was a lot of fun, I am very proud of my horse," said Rosencrantz. "To have this experience is very valuable. We are all trying to move on and it is hard to get in an environment in front of such a big crowd. This is how it is in Europe, so competing here is wonderful. I didn't want it to end."
Dressage culminates on Saturday with the Rolex FEI Grand Prix Freestyle that will determine the 2007 Rolex FEI World Cup Champion. The top 12 finishers from Thursday's opening day Grand Prix qualified to compete in Saturday's Freestyle. They will ride in inverse order of finish from Thursday's Grand Prix. Scores do not carry forward so the best score in the Freestyle will earn the title of World Cup Champion
The winner of Thursday's Grand Prix was six-time Olympic medalist Isabell Werth of Germany, who won the World Cup Final in 1992. Her six Olympic medals include four gold and two silver on her legendary mount, Gigolo. The defending champion Anky van Grunsven of the Netherlands, who has won the Final a record eight times, did not enter this year's Final after giving birth to a baby daughter just last month.  
Back to the 2007 World Cup Index