Irish Dressage News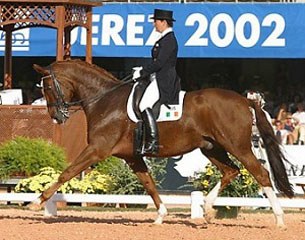 Anna Merveldt is the winner of The Irish Field Dressage Rider of the Year Award for 2006. The announcement was made by Leo Powell, Managing Editor of The Irish Field at a lunch in Kilcullen, County Kildare on Monday 26th February 2007
attended by the Irish Minister for Arts, Sport and Tourism John O'Donoghue.
This is her fifth time to win the award in the last seven years. Anna was the highest ranked Irish rider in the FEI/BCM World Dressage Rankings in 2006. A number of top ten finishes at Grand Prix level at CDI3* big tour shows in Europe last season saw her qualify to represented Ireland at the World Equestrian Games in Aachen riding Lafitte. Anna and Lafitte won the Grand Prix consolation class at Fritzens CDI3* in Austria last July.
Anna was also well placed on the international CDI3* small tour throughout the season with Justin, Ruffini and Coryolano. She placed fifth with the 12 year old Rio Negro gelding Ruffini in the Intermediaire I Kur (freestyle to music) final at the Sunshine Tour in Vejer de la Frontera, Spain last March.
Ireland's other 2006 World Equestrian Games representative, 25 year old championship debutant Judy Reynolds is based in Munich with and trained by Anna Merveldt.
Previous winners of the The Irish Field Dressage Rider of the Year Award:-
1997 - Yvette Truesdale
1998 - Heike Holstein
1999 - Katy Price
2000 - Anna Merveldt
2001 - Anna Merveldt
2002 - Anna Merveldt
2003 - Heike Holstein
2004 – Anna Merveldt
2005 – Heike Holstein
Photo copyrighted: Mary Phelps / Phelpsphotos.com
Related Links
Anna Merveldt Steffens and Fosbury
Merveldt Steffens Wins Her Fourth Irish Field Award
Anna Merveldt Steffens Wins Irish Field Award
Anna Merveldt-Steffens Wins Irish Field Award For Second Time
"Irish Field" Hattrick for Anna Merveldt-Steffens