2006 Young Riders World Cup Final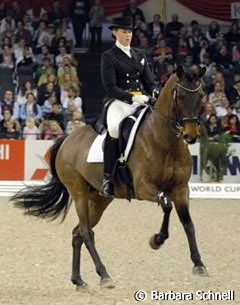 Alexandra Duncan of West Vancouver, BC represented Canada at the second annual FEI Young Rider Dressage World Cup Final, held December 15-17 in Frankfurt, GER, finishing in fourth place overall.
In the opening class, the FEI Young Rider Team Test, held December 14, Duncan put in a solid performance aboard her 11-year-old Holsteiner mare Elektra, scoring 66% for fifth place.
"The team test went well. Elektra didn't react too much to the ring, but it was amazing to be in there for the first time," said Duncan, who the previous weekend achieved a seventh place finish at the CDY-CDJ Kreuth Dressurgala December 8 - 10 in preparation for the World Cup. "The ring was in a dome building so you could hear everything. It was quite spectacular, I had never heard anything like it, but Elektra still didn't bother too much."
In the following day's Prix St. Georges test, Duncan improved upon her initial score, receiving 66.950%, again finishing in fifth place which qualified her to proceed to the top A group for the Freestyle. After a brilliant ride in her final class, the Kur A Finale, Duncan scored 70.500% to finish in fourth place overall.
"The horse quality was amazing; they were top, top horses. I was so pleased to finish fourth overall. Elektra was super and we both worked hard. I couldn't have asked for anything more," commented Duncan.
The most memorable part of the competition for Duncan was the final prize giving ceremony. "They sent the Grand Prix riders in with the Young Riders, and we did the victory gallop in pairs according to placing. At the end every horse passaged and it was a unique - the clapping sounded so powerful, it felt like you were in a movie!"
Duncan finished her rookie year at the Young Rider level with a bang when she was identified as the Canadian representative for the World Cup based on her 2006 Young Rider results at FEI competitions. Duncan competed against the top 12 Young Riders from around the world, including The Netherlands, Italy, Germany, Denmark, Sweden, Austria, France, Portugal, Czechoslovakia, Poland and United States. Riders were able to get a taste of truly international, world-class competition during the Final.
Duncan is coached regularly under the watchful eye of Pan Am Gold medalist Leslie Reid. While preparing for the FEI Young Rider World Cup, Duncan was able to base herself at the beautiful Hofgut Neuhof, located just south of Frankfurt, where she trained with Dutch Olympian Ellen Bontje leading up to the Finals.
"It is an experience I will remember for the rest of my life. I felt very proud to represent my country and placing was a bonus," said Duncan, who earlier this year helped the Canada West Young Rider Dressage Team bring home the Gold Medal from the 2006 North American Junior/Young Riders' Championships.
Photo copyrighted: Barbara Schnell
Back to the 2006 CDI-W Frankfurt Index