Dutch Dressage News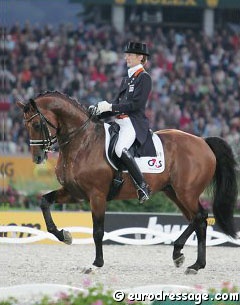 The KWPN licensed stallion Lingh has been sold to Karin Reid-Offield of Offield Farms in Michigan, The United States. The announcement of Lingh's sale on the Dutch Equestrian Federation's website puts an end to weeks of speculation
on the rumoured sale of this bay stallion, who has been on the market for more than two years.
Lingh's owner, the 81-year old Theo van Sadelhoff, sold the stallion to Reid-Offield, who will use him as a schoolmaster, but it is no secret that she aspires to compete the horse at the 2007 World Cup Finals in Las Vegas. Reid-Offield was the title sponsor of the World Cup in Las Vegas two years ago.
Edward Gal, the Dutch rider who rode Lingh to stardom, is not upset by the sale of his number one Grand Prix horse. "I had foreseen the sale of Lingh and I am at peace with it," Gal said. "But this does not mean that I don't think it's a pity. We tried everything to keep the horse, but to no avail. Lingh was sold in full agreement and co-operation with Theo von Sadelhoff."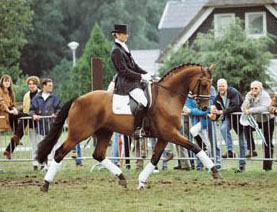 The Dutch warmblood stallion Lingh made his career as an international dressage horse under Edward Gal. His first international show debut was at the 1999 World Championships for Young Dressage Horses in Arnheim, The Netherlands. The combination participated in numerous international shows, championships and World Cup Finals. They did not compete in the Olympics, though, as Lingh injured himself right before the 2004 Olympic Games of Athens. The last medal the pair won was team silver at the 2006 World Equestrian Games.
Gal considers his Grand Prix win at the 2005 Las Vegas World Cup Finals the most memorable in his career, as he beat the then undefeatable Anky van Grunsven on Salinero. "The second highlight of my career is winning the Dutch National Grand Prix title in Nijmeghen in 2004," Gal stated.
Lingh is a 1993 born Dutch warmblood stallion by Flemmingh out of a Columbus dam. He is bred by Mr. H.S. Dallinga. Lingh only got licensed as a breeding stallion in 2004 based on his performance as an international dressage horse.
Photos copyrighted: 
Astrid Appels/Eurodressage
Source: KNHS - Jacob Melissen
Related Links
Lingh to be Sold
Edward Gal and Lingh Under Pressure at 2006 World Cup Finals 
Edward Gal's Lingh Injured at 2006 World Cup Finals 
Lingh Secured For Gal Until 2005 European Championships
Edward Electrifying in 2005 World Cup Finals' Grand Prix 
Edward Gal and Lingh Win Opening Grand Prix in 2005 World Cup Finals 
Come Back Deluxe for Edward Gal and Lingh at the CDI-W Amsterdam
Drama in the Dutch Camp - Gestion Lingh Withdrawn