What's Happening in the Dressage World?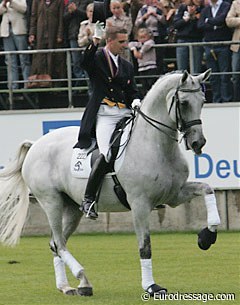 Some rumours refuse to die. And one of the nastiest rumours going round is the so called sale of Blue Hors Matine. People, the horse is not sold and will not be sold!!
The rumour started on the Grand Prix Special day at the 2006 World Equestrian Games in Aachen, when a not so smart girl of a German equestrian magazine published (without checking the source) that the mare sold to a sheik for 2 million euro. A few hours later, the selling price had risen from 2 million to 5 million. At the press conference, a journalist asked if it was true that the mare sold for 7 million euro!! Andreas Helgstrand stated immediately that the mare has not been sold, and is not for sale. "We buy champions like her, we don't sell them," he joked.
One day later, on the Grand Prix freestyle day, the mare supposedly had been sold for 9 million euro. The fictitious Arabian sheik had also changed nationality by then and the rumour said that it was a rich American who bought Matine (maybe it was Bin Laden who decided to trade in terrorism for dressage ??).
One month after the WEG, bulletin boards are still buzzing with reports about the sale of the Danish warmblood mare and the rumour refuses to die. Eurodressage spoke to Esben Moller, manager of Blue Hors Stud, yesterday to get the facts straight one more time. "Matiné has not been sold and is not for sale either, but somehow this rumor won't stop," Moller told Eurodressage. There you have it! The mare is not for sale.
A horse that was for sale and that has been sold is the KWPN licensed stallion Redford (Krack C x Ferro). The 18-year old Spanish Guisep Massana from Girona purchased the stallion and will compete him in the Young Riders division. Massana is trained by Victor Alvarez. Redford was initially trained by Anky van Grunsven, but the stallion soon went to Hans Peter Minderhoud. The horse never really achieved big show successes on the Dutch scene and has now been exported to Spain. Redford was owned by Mr A. Valk, Mr Vlaar, Mrs A. van Grunsven and Mr S. Janssen.
Eurodressage was at 2006 Dressage at Devon (USA) two weeks ago working for Horsesdaily.com. We posted two "What's Happening" pages on the show which included some juicy information. For instance....
The famous North American SMID (Straight Men in Dressage) affiliation held its annual meeting in the stable corridors at Devon. They reunited and toasted on their SMID membership with Hoegaarden and Corona beer. Names of the members can not be revealed because, just like the Free Masons, it is a secret society.
Somebody whispered in our ear that Lars Petersen and Melissa Taylor have taken up a new hobby. In July they were spotted and photographed doing some tree climbing. Talk about taking up an original hobby.
Tim Dutta confirmed that his fantastic Hanoverian mare and former Verden Auction horse West Side Lady (by Westbury) is in foal to Sandro Hit! Here you have a Bundeschampion and Grand Prix dressage horse paired to a World and Bundeschampion. We are looking forward to seeing photos of that foal. Susan Duttahas a new young dressage horse with her for training. It's a lovely grey mare calledManette, and she's by Master out of a Fruhling dam. We can't wait to see her move.
Dr. Ulf Möller was back in Devon to promote the new collection of horses that will be sold at Paul Schockemohle's and Ulli Kasselmann's famous Performance Sales International (PSI) Auction on December 17, 2006. The auction takes place one week later than normal because of the Asian Games. A large contingent of PSI clients comes from Asia and in order to able to invite them over to the auction, they decided to postpone this fantastic event for one week.
We also spotted Britt Carlsen of the Danish publishing agency Ridehesten at Devon. Not only are several Danish riders competing here (Lars Petersen, Lars Baekgaard) but there are also many Danish horses showing (e.g. Succes, Schumacker Solyst, Schagall Solyst, Manette, Melville, Marsaelis, Lucky Me, May Liberty). Carlsen will be writing a story on the Danish presence at Devon, just like Eurodressage's correspondent Thomas Bach Jensen did last year. Bach Jensen is attending the Vechta Elite Auction and couldn't make it to Devon.