2006 Italian Freestyle Championships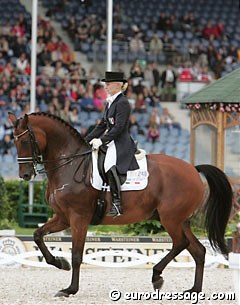 Anna Paprocka-Campanella has won the 2006 Italian Freestyle Championships held on October 13-15, 2006 in Cervia, Italy. Aboard her bay gelding Andretti H, Paprocka scored 73,500% in the Grand Prix kur to Music. Claudia Montanari placed second with 68,500%
on her Hanoverian Don Vittorio, and the bronze medal went to Gianna Baiocchi and Wiemar VF (59,750%).
The Intermediaire Kur title was won by current Young Rider European Champion Valentina Truppa. With her 9-year-old Chablis, Truppa received 76,417% from the panel of judges for her freestyle ride. In the ranking she was followed by Monica Iemi on Flipper (68,333%) and Pierluigi Sangiorgi with Flourian (67,750%).
The Medium level national title was awarded to Giorgia Gotti on the 7-year-old Loro Piana Cordobes de Hor (66,500%). Maria Milla and Andorra S (61,917%) came second, and Antonio Ruzittu with Chiver got the third place (61,417).
In the Young Riders division, Federica Scolari with her Italian stallion Beldonwelt placed first (68,500%), Matilde Villa with Web Tyson were second (67,500%), and Maria Maddalena Zambaiti finished third on her recently purchased mare Nileva degli Asseri (65,250%).
Junior riders were, according to the Italian system, split in two categories; the more difficult class (Elementary level) was won by Maria Serena Danovaro on the oldest horse of the event, 19-year-old Teknic (64,667%), followed by Fabia Profili with Carful II (61,292%), and Gemma Prosperi with Welfenstein (61,083%).
The other Junior competition, at Novice level, was won by Luca Sironi and Impuls (72,667%), followed by Beatrice Cappetti on Renegade VWG'S (67,417) and by Alice Carra on Fada du Bocage (60,750%).
During the weekend, the Italian Young Horses championships were also contested. The 4-year-old division was won by the mare Radiosa di Villagana, ridden by Ester Soldi, with 85,200%, which was also the highest percentage of the event; the gelding Doriax, ridden by Norma Paoli (77,600%) placed second, and another mare, Fede del Castegno, ridden by Elena Gariglio, came third (76,200%).
The 5-year-old competition had only one entry; the gelding Eremo del Castegno, ridden by Valentina Truppa. They obtained 84,400%. The 6-year-old division was won by Weltkoenig, ridden by Laura Conz's Bereiter Andrea Stephanie Perron (73,600%), followed by Winning Fever and Fabrizio Tognacci (69,600%).
Photo copyrighted: Astrid Appels / Eurodressage
Related Links
Italian Valentina Truppa Becomes 2006 European Young Rider Champion
James Connor and Highflyer, 2002 Italian Kur Champions