2006 U.S. Dressage Championships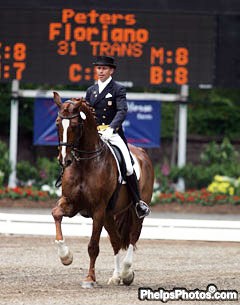 On Saturday afternoon at the USET Foundation Dressage Festival of Champions, we saw another breathtaking performance from Steffen Peters, of San Diego, CA, and Floriano, a 16-year-old Westphalian gelding, owned by Laurelyn Browning
, even after Peters stated on Thursday that his horse had given all he had to give and this was the best it got after a score of 74.5% in their Grand Prix test. Today Floriano and Peters ate their words when a 77.24% flashed across the score board.
"The bottom line is I consider myself a pretty tough guy, but when I come out of the ring crying you know it was a pretty good test. I was beside myself. It was just one of those rides that you don't have too many times in your life. Everything was so expressive and so clean without any mistakes. Just to have him that supple and that energetic at the age of 16 is unbelievable. And that's how he started out today in the warm-up. He was so ready to go again. After the Grand Prix, you expect them to be a little tired. But there was absolutely no sign of that at all."
When asked today if they could do any better, this time Peters had little to say. "That's what I said on Thursday, but it's always great when the horses prove you wrong. There was definitely more in there, and like I said it was so amazing to have him that loose and that supple and ahead of the leg. He had the same amount of energy but was just a little bit more supple. That made all the difference today." Peters credits his wife and Klaus Balkenhol for helping him prepare.
In second place, again, was Guenter Seidel, of Cardiff, CA, and Aragon, the 14-year-old Bavarian Warmblood gelding, owned by Richard and Jane Brown. The pair scored an enviable 73.32% today. "He just got a little distracted, and then he lost the rhythm. It was kind of a bad start I think. He was a little behind the leg in a few places, but overall it was fine. He was relaxed, he was obedient. He was pretty regular in the other work so yeah, I was happy with that."
Leslie Morse, of Beverly Hills, CA, and her 12-year-old Swedish Warmblood stallion, Tip Top 962, had another strong third place finish despite a few small errors, with a score of 72.0%. "I think that was a rider error. I had such beautiful two tempis that I came in on such a big buoyant beautiful flowing stride that I thought I could just kind of keep that into the one tempis, and I think that's where it helps to have more experience with your horse. This is definitely a time that I gained experience."
"Once that little bobble happened I felt that he felt kind of like oh, I made a mistake and I didn't want to make a mistake and then we lost a little bit of our momentum."
Just like with Jan Ebeling's lost rein across the diagonal yesterday, Morse and Tip Top supplied a moment of comic relief during their test. Just before completing the test, Tip Top came down the center line and sneezed himself out of his piaffe before he had completed the move, looking confused as to what had happened.
"It just shows he's a horse and he has personality, and at the end of the test he still has a lot of gumption. It did really amuse me, he was still right there, and he was really happy to be in that arena and for him to be able to do that at the end of the test shows that he was really happy to be there and that's what you want in a young grand prix horse."
Despite entering the arena to a screaming crowd when Peters' scores went up on the board, Morse said she like riding right after Peters. She said it was like playing tennis with a really good tennis player, it makes you rise to the occasion.
Related Links
Scores: 2006 Festival of Champions 
Gibson and Lex Barker Closer to Small Tour Champion's Title
Steffen Peters and Floriano Win Grand Prix at 2006 Festival of Champions