2006 Bundeschampionate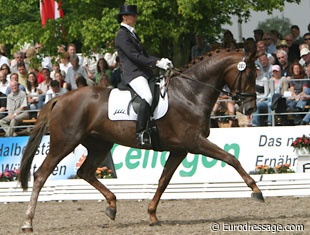 Here I Am and FBW Dejavu won the Sachsen-Anhalt Bundeschampionate Qualfiier in Prussendorf, Germany, June 2-4, 2006. Both horses put down a decent 8 plus score and claimed their entry ticket for the big finals in Warendorf, Germany, in September.
Doris Görtz scored a winning 8.4 on the Hanoverian Here I Am (by Hohenstein), beating Nadine Plaster on Dancing Diamond (by Disco Tanzer) who got 8.2 from the judges. Sandra Frieling also qualified for the finals aboard Simply the Best S (by Sandro Hit) with an 8.0 mark.
Nadine Plaster won the 6-year old Dressage Horse class aboard FBW Dejavu, the chestnut mare by Dacaprio with whom Plaster won a bronze medal at the 2005 World Young Horse Championships. In Prussendorf, the won with 8.3, referring Frank Mohr and his Rhinelander branded Lancelott (by Lord Sinclair) to second place.
Photo: Plaster - Dejavu (c) Astrid Appels/Eurodressage
Results
5-year old Dressage Horses
1. Here I Am - Görtz, Doris - 8.4
2. Dancing Diamond - Plaster, Nadine - 8.2
3. Simply the Best S - Frieling, Sandra - 8.0
4. Rigamento - Weisbrod, Katja - 7.7
5. Welfenkrone - Sedlacek, Claudia - 7.5
6. Richard's Bay - Brehmer, Thomas - 7.0
6. Highnoon - Hantke, Axinja - 7.0
8. Rodolith - Burghardt, Ines - 6.8
9. Djamila - Müller, Kathrin - 6.7
10. Wennke - Schepuck, Dirk - 6.5
11. Schöne Fürstin Go - Schulz, Ingrid - 6.4
6-year old Dressage Horses
1. FBW Dejavu - Plaster, Nadine - 8.3
2. Lancelott - Mohr, Frank - 8.1
3. La Diva - Sedlacek, Claudia - 7.3
4. Ruben As - Strümpfel, Jacqueline - 7.2
5. Winona - Metz, Cornelia 7.0
Back to the 2006 Bundeschampionate Index