FEI Dressage News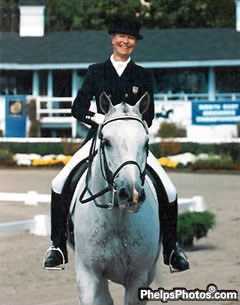 American Gary Rockwell and Swedish born American Anne Gribbons have been named the new two O-judges. The news was announced yesterday at the national show "Dressage at Lamplight" in Wayne, Illinois (USA). Rockwell and Gribbons will be officially appointed O-judges
at the end of 2006. The FEI has not yet released a statement on this new appointment.
Gary Rockwell is a former member of the United States Equestrian Team. He represented the U.S. in competitions throughout Europe. Aboard his Danish mare "Suna" he won a team silver medal at CHIO Rotterdam in 1993 and a team bronze at the 1994 World Championships at the Hague, Holland. A USA Equestrian "S" and FEI "C" judge, Gary lives, trains and teaches in Wellington, Florida.
Anne Gribbons has been a national judge with USAE (formerly AHSA) for 25 years and an FEI judge since 1990. Anne recently officiated at, for instance, the 2004 World Cup Finals in Dusseldorf, the 2004 U.S. Olympic Selection Trials in California, the 2004 CDI-W 's Hertogenbosch, and the 2005 CDI Falsterbo and 2005 CDI Hagen.
Gribbons says that while most riders don't like the judging box, she enjoys it because it is totally different from the other parts of her horsewoman's life. "I stop teaching. My job is to criticize and complain but in a positive way. Good judging is what keeps the sport going, when it is derived from honesty, thought and knowledge, you have to judge what you see."
American dressage judges are on the right track, according to Anne, who also pointed out that U.S. judges are the best educated in the world. "We have a designated path, clear steps to follow." That path includes an extensive program of seminars and tests that is now being emulated by the FEI. "I was privileged to run the National Judges Forum with Axel Steiner in 2002," said Anne. "We had 125 very motivated judges attend."
Photo copyrighted: Mary Phelps/Phelpsphotos.com
Related Link
Wüst, Törnblad and Roudier New O-Judges