2005 French Dressage Championships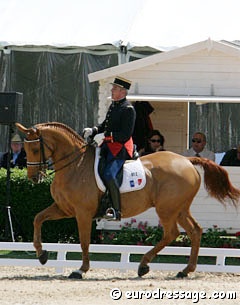 Hubert Perring and Diabolo St. Maurice became the 2005 French Grand Prix Dressage Champions at the national championships in Saumur, France, October 30, 2005. In the absence of leading French dressage rider Karen Tebar with Falada M
and former double national champion Odile van Doorn with Parodie van de Wateringhoeve, the claim on the gold medal and the national title was disputed between Perring and D'Esme.
Perring won the Grand Prix with 68.167% and the Kur with 74.350% aboard his French bred Diabolo St Maurice (by Plein d'Espoir x Et Hop AA), while D'Esme led on her Danish warmblood Roi de Coeur (by Schwadroneur x Donauwind) in the Special with 68.360%. With all points added up, the difference between Perring and D'Esme was minimal. The former won the Championship with 210.797 points, while the latter got the silver medal with 209.110 points in total. The bronze medal went to newcomer Philippe Maynier on the 10-year old KWPN bred Nashville (by Farrington x Doruto).
In the small tour championship it was Jean Philippe Siat and the super talented Greystoke who earned the gold medal after winning the Intermediaire I and Intermediaire I kur to Music. Siat was a French young rider two years ago and made a successful move into the senior circuit, gradually working his way up on the leader board this 2005 show season. The silver medal went to Maxime Collard on the Belgian warmblood Robin van 't Dashaegeveld, while the bronze went to Gilles Siauve on Aston.
Photo copyrighted: Astrid Appels/Eurodressage
Results French Dressage Championships
Grand Prix
1. Hubert Perring - Diabolo St Maurice - 68.167%
2. Dominique d'Esme - Roi de Coeur - 66.750%
3. Philippe Limousin - Joeris - 65.958%
4. Philippe Maynier - Nashville - 64.958%
5. Pierre Subileau - Sejlgaards Carlos - 64.083%
6. Isabelle Cristoforoni - Atout de Moncel - 63.708%
7. Sylvie Corellou - Hostens de Bel - 63.667%
8. Catherine Henriquet - Farahim des Cloets - 63.292%
9. Nicole Favereau - Birdy Dubois - 62.750%
10. Thibault Cambourieu - Joery - 62.250%
11. Fabien Godelle - Donatello - 61.417%
Grand Prix Special
1. Dominique d'Esme - Roi de Coeur - 68.360%
2. Hubert Perring - Diabolo St Maurice - 68.280%
3. Philippe Maynier - Nashville - 68.160%
4. Pierre Subileau - Sejlgaards Carlos - 65.840%
5. Catherine Henriquet - Farahim des Cloets - 65.200%
6. Philippe Limousin - Joeris - 65.160%
7. Sylvie Corellou - Hostens de Bel - 63.480%
8. Isabelle Cristoforoni - Atout de Moncel - 63.080%
9. Fabien Godelle - Donatello - 62.120%
Grand Prix Kur to Music
1. Hubert Perring - Diabolo St Maurice - 74.350%
2. Dominique D'Esme - Roi de Coeur - 74.000%
3. Philippe Maynier - Nashville - 70.675%
4. Philippe Limousin - Joeris - 69.475%
5. Catherine Henriquet - Farahim des Cloets - 69.125%
6. Pierre Subileau - Sejlgaards Carlos - 69.050%
7. Isabelle Cristoforoni - Atout de Moncel - 67.850%
8. Sylvie Corellou - Hostens de Bel - 65.300%
9. Fabien Godelle - Donatello - 64.700%
French Grand Prix Championship
1. Hubert Perring - Diabolo St Maurice - 210.797
2. Dominique D'Esme - Roi de Coeur - 209.110
3. Philippe Maynier - Nashville - 203.793
French Small Tour Championship
1. Jean Philippe Siat - Greystoke - 207.075
2. Maxime Collard - Robin van 't Dashaegeveld - 202.450
3. Gilles Siauve - Aston - 201.275
Related Links
Scores 2004 French Dressage Championships
Scores 2003 French Dressage Championships 
Hubert Perring Severely Injured After Fall from Horse 
Odile van Doorn Reconquers French National Dressage Title 
Van Doorn and Parodie van de Wateringhoeve, 2002 French Dressage Champions
Marietta Almasy, 2001 French Dressage Champion