2005 World Championships for Young Dressage Horses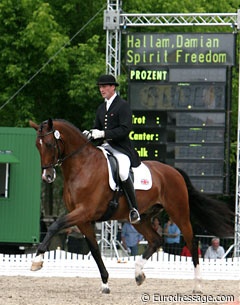 On the European continent Brit Damian Hallam is not very well known. He occasionally is to be seen at a local show in Germany, recently won the Bundeschampionate qualifier in Oer-Erkenschwick, or he is training with Johan Hinnemann in Voerde, Germany.
Last year he competed at the 2004 World Championships but ranked 13th in the consolation finals. In his home country Great Britain, Hallam is a star. Only a few months ago he won the Horse and Hound Winter Dressage Championships with Spirit Freedom and the 7-year old Hanoverian mare Wolke Sieben, and now he came back to Verden as the sole rider representing the U.K. at the 2005 World Young Horse Championships.
Aboard the Oldenburg bred gelding Spirit Freedom (Sion x Figaro), Hallam placed second in the first round with 8.56. His trot tour was engaged, though the transitions between collected and working trot could have been a bit more balanced. The extended walk showed decent overstep with a lovely stretching of the neck and frame of the horse. In the canter, the horse sometimes lost the clear 3 beat rhythm, but he continued to work for his rider and showed outstanding flying changes.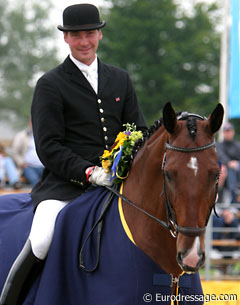 Completely overwhelmed by this fantastic second place in the first round, Hallam totally went for it in the Finals. The trot tour was super fluent and active, even a bit hasty and there was a blockage in the kurzkehrt, but for the rest, there were only words of praise from the judges. "Spirit Freedom has a powerful, energetic, active hindleg in the trot and canter," judge Plewa commented. "He shows much balance in the trot and is very active (9.4), his walk can be a bit more engaged so it is more groundcovering. The canter is well engaged and uphill, but he can be a bit looser in the back (8.9). This is an extremely rideable horse and though one flying change was late, he showed the best changes in general. This horse has much potential for the FEI ring."
"It's unbelievable," an ecstatic Hallam told Eurodressage. "I came her just to do my best and then I finish second, behind Florencio. It feels like winning." Spirit Freedom was purchased by Sarah and Tony Pidgley from Windsor, U.K., at the Vechta Elite Auction.