2005 World Cup Finals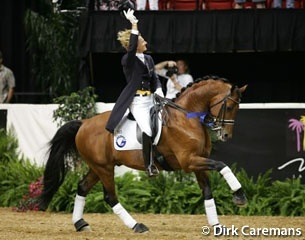 Edward Gal of the Netherlands, riding Geldnet Lingh, won the opening Grand Prix at the FEI World Cup Dressage Finals, Presented by Offield Farms, at the 2005 Las Vegas FEI World Cup Finals.
The world's top dressage and jumping horses and riders are in Las Vegas competing for the prestigious title of International Equestrian Federation (FEI) World Cup Champions in both dressage and jumping at the Thomas & Mack Center.
The FEI World Cup Dressage Final, presented by Offield Farms, and the FEI Budweiser World Cup Jumping Final are being held simultaneously for the first time in history.
Gal and the 12-year-old Dutch stallion Lingh wowed the crowd of more than 8,500 with his test that was awarded many 8s and 9s by the panel of five judges for a total score of 78.625%. "At first I was very nervous because of the crowd," said Gal. "Then I thought, what the heck, just ride and see what happens. [ Lingh] did everything I wanted. I heard the crowd say, 'Oh wow,' so I thought it must be good. My day was super."
Immediately behind Gal was teammate and defending World Cup champion Anky van Grunsven riding Salinero. Van Grunsven and the 11-year-old Hanoverian gelding scored a close 78%. She had a few mistakes, which she attributed as her own. Van Grunsven, who trains Gal said, "I'm very proud [of Edward], though I am going to try to beat him in the Kür."
Standing in third place after the Grand Prix was American Debbie McDonald of Hailey, Idaho, and Brentina. The pair had the second ride of the day and held the first-place position until the last two rides of the competition. McDonald and the 14-year-old Hanoverian mare, who were the 2003 World Cup champions, scored a total 75.925%. "The atmosphere is phenomenal of all the places I've been," she said. "Mentally, it's nice to start on top, but I have to remember that the next competition is a clean slate."
The top 12 horses and riders from today's Grand Prix will advance to the FEI World Cup Dressage Final-Freestyle on Saturday night. The Grand Prix scores will determine the order of go in the Freestyle, and the riders will compete in reverse order. The scores from the Freestyle only will determine the World Cup champion.
McDonald will be joined in Saturday night's Freestyle by the three other American riders competing in the FEI World Cup Dressage Finals. Robert Dover and FBW Kennedy, Leslie Morse and Kingston and Guenter Seidel and Aragon all qualified.
The pairs that will be competing in the Saturday Freestyle are:
Rider Horse Country Score
1 Edward Gal - Lingh - NED 78.625
2. Anky van Grunsven - Salinero - NED 78.000
3. Debbie McDonald - Brentina - USA 75.958
4. Robert Dover - FBW Kennedy - USA 75.625
5. Jan Brink - Bjorsells Briar 899 - SWE 75.583
6. Andreas Helgstrand - Blue Horse Cavan - DEN 73.000
7. Leslie Morse - Kingston - USA 72.792
8. Hubertus Schmidt - Aramis - GER 71.708
9. Carl Hester - Escapado - GBR 71.667
10. Sven Rothenberger - Barclay II - NED 71.167
11t. Guenter Seidel - Aragon - USA 71.125
11t. Lone Joergensen - Ludewig G - DEN 71.125
Photo copyrighted: Dirk Caremans
Eurodressage Coverage of the 2004-2005 World Cup Finals