2005 World Cup Finals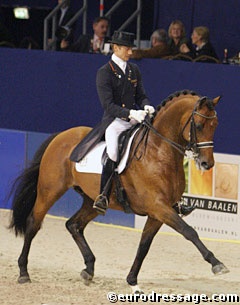 After the disappointment of missing the Athens Olympics when Lingh injured himself just before they were due to leave, Edward Gal and his 12-year-old partner returned to the international arena to take the fifth round
of this season's FEI World Cup dressage western European League in triumphant style.
The Dutch pair, runners up at the 2004 FEI World Cup Final, scored 81.6 per cent to leave the rest of the field in their wake, although it was a hot contest in which the top seven horses scored over 76 per cent. With nearly 7000 spectators who gave Edward Gal a standing ovation, the atmosphere was as hot as the contest.
"It's very nice to be back with Lingh again", Gal said. "We have not competed since Aachen last year, and while he was a little tense at the start of yesterday's grand prix [which they also won], he loves the atmosphere and rises to it." Las Vegas is the main goal this year and Gal now heads Gribaldi for Neumunster while Lingh will be out again at Den Bosch and possibly Duesseldorf after his next job of being approved for stallion duties.
Switzerland's Silvia Ikle, who was so thrilled when her eleven-year-old Salieri came third in Maastricht, went one better here to gain second place. In doing so she ascended to a strong third place in the points standings on 52, having recorded an early Central European League victory in Kaposvar. "Salieri is a wonderful horse," said the delighted Ikle, " I was astonished at his attitude as there was so much noise and so many people. I thought he might be difficult but he just went in as if to say 'Here I am, I'm the best'."
Also returning to the fray after a minor knee injury sustained just before Aarhus, Jan Brink's Bjorsells Briar placed third on the Swedish pair's first outing since the Athens Olympics.
"Briar felt very fresh and very good", Brink reported. " He was a little bit excited at the start of the grand prix, which is normal for him, but he felt great in freestyle, really up in the neck and with not many mistakes." As for the prospect of a trip to Las Vegas, Brink said: " It will be very tough [to qualify]. There are only three more qualifiers, so we will go to Neumunster and see what we can do then either go for it, or calm down if it looks too difficult."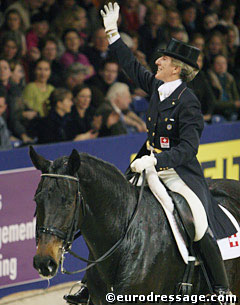 Wim Ernes, President of the Ground Jury, had a lot of praise for the riders. " The atmosphere was like a pop concert! It was really exciting, as was the grand prix, and the standard was really high in the freestyle. That so many horses were very close together was also exciting. Lingh was back on form with marvellous extensions and very nice piaffe and passage. Edward Gal took risks and rode to true power, which you have to if you want to win."
On Salieri he commented: " This horse is a real piaffe passage machine - I gave a '10' for one piaffe. This is a very interesting combination for the future, one that could provide severe competition!" While Briar's test contained some small mistakes, Ernes commended the passage and extensions and also praised Jan Brink's sympathetic riding.
With the solid combination of Hubertus Schmidt and Wansuela Suerte in fourth, Sven Rothenberger and Barclay II showed improved piaffe and a happier impression for their fifth placed freestyle.
Isabell Werth's Satchmo also got better and better over the show. Carl Hester had to hang on to his hat as Escapado got off to a hot start - his 'trick' of waving a forefoot in anticipation in his first halt had the crowd in uproar - but the one tempis were the only real loss in an otherwise admired test though this was one with an obvious difference in the scores from some of the jury members. " It is always a fact that when the result is really close small differences can count for several places" said Wim Ernes.
Hester's 10 points for seventh place brings him to second place in the standings (60 points) to Germany's leader Ann Kathrin Linsenhoff, who is still out in front on 65. Sven Rothenberger shares fourth position with Denmark's Andreas Helgstrand, who placed eighth here on Blue Hors Cavan. With Lone Jorgensen sixth, Edward Gal now occupies seventh place with Britain's Richard Davison (eleventh here on Ballseyr Royale) in eighth.
The next qualifier takes place in Neumunster, Germany from February 17-20th.
Text By Bernadette Faurie
Images copyrighted: Astrid Appels/Eurodressage
Related Links 
World Cup Qualifier Continues at CDI-W Amsterdam
Hester and Escapado Claim First World Cup Victory in Mechelen
Eurodressage Coverage of the 2004-2005 World Cup Finals