2005 World Cup Finals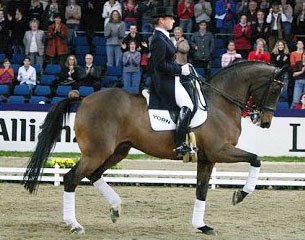 After only a short New Year's break, the 2004-2005 World Cup circuit continues with its first Western European League qualifier of 2005 in Amsterdam, The Netherlands, January 27-30, 2005.
Entered to compete is Andreas Helgstrand, the winner of the CDI-W Aarhus and Stockholm. He's bringing Blue Hors Cavan with him for the Grand Prix tour and will also be riding Blue Hors Future Cup in the small tour. Danish Anne van Olst and Jon Pedersen will accompany him.
The German camp is sending Hubertus Schmidt with Wansuela Suerte, Isabell Werth on Satchmo and Ellen Schulten-Baumer with two horses, Lesotho and Aldebaran or Delphina.
Current leader in the Western League World Cup ranking is Ann Kathrin Linsenhoff on Renoir Unicef. With 65 points in total, she has a strong lead on second placed Carl Hester with Escapado (50 points). Linsenhoff is not going to Amsterdam, but Hester is. He will be joined by the British Richard Davison (Ballaseyr Royale) and Wayne Channon (Lorenzo).
Jan Brink will also be back in the picture, as he's reintroducing his Bjorsells Briar. The liver chestnut Swedish warmblood injured his knee in the autumn and was out for quite some time. Swedes Louise Nathhorst (Guinness) and Tinne Vilhelmson (Just Mickey) will also travel south to Amsterdam.
Jumping Amsterdam will have to miss Holland's number one rider Anky van Grunsven, who is still recovering from giving birth to her son Yannick Janssen. However, Anky will be conducting clinics and making several appearances at the show throughout the weekend. Riding for glory in this World Cup Qualifier on home turf are Patricia Callaghan, Sven Rothenberger, Ales van Silfhout, Madeleine Vres, Kebie van der Heyden, Laurens van Lieren, Kirsten Beckers and Edward Gal. The latter will be back in the ring with his top horse Lingh.
Silvia Iklé on Salieri and Jeroen Devroe on Paganini complete the Grand Prix starters' list of the CDI-W Amsterdam.
Image copyrighted: Baumann.
Related Links
Hester and Escapado Claim First World Cup Victory in Mechelen
Schmidt Wins German Head to Head at CDI-W Maastricht
Eurodressage Coverage of the 2004-2005 World Cup Finals