2005 World Cup Finals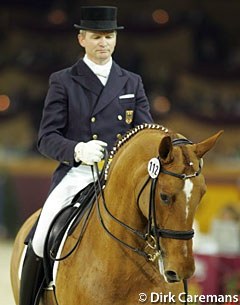 Two German Olympic team gold medal-winning combinations battled it out for the top slot in Maastricht where Hubertus Schmidt and Wansuela Suerte narrowly snatched victory over Heike Kemmer and Bonaparte by a fraction of a point.
In Wansuela Suerte's first outing since Athens, she and Schmidt took command in both the Grand Prix and the FEI World Cup Freestyle qualifier. "I was very, very happy with the grand prix, but Wansuela felt a little tired for the freestyle", commented Schmidt, who now takes a break until resuming his Las Vegas-bound campaign in Amsterdam (Jan 27-30 2005).
Kemmer and Bonaparte's freestyle had just one mistake in the one-tempi changes, but their dramatic extended canter down the centre line earned a maximum '10' from judge Volker Moritz at H. " In Dusseldorf" [the 2004 World Cup Final, where they finished fourth] " in this movement I took a little too much risk, and Bonaparte changed legs at the end. Dr Moritz was at C that time, and this time it was perfect so I think that was why he gave us the top mark", said Kemmer, adding, " Bonaparte gave me a really good feeling today." Kemmer now takes her veteran campaigner Albano to London for the Olympia qualifier.
Switzerland's Silvia Ikle, in third place, was delighted with the performance of her ten-year-old Sinclair gelding Salieri CH, who she has been training since he was three. A member of the five strong Swiss elite squad for next year, Ikle said: " Salieri can be hot and used to be nervous, but today he was so concentrated on me, and felt so forward and light, I had a wonderful ride."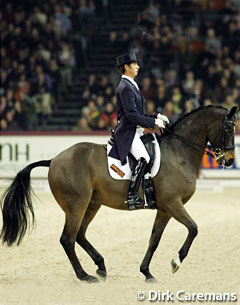 Carl Hester and Escapado placed fourth rising six places from their grand prix rank of tenth. Hester was delighted. "Escapado just felt unbelievable" said the British rider, who made such an impression in Athens with this horse in finishing 13th overall. " I am totally excited. He gave me such a lovely feeling, and to experience such a transformation in his confidence. There is so much more to come." Another up and coming combination placed highest for the home side.
Madeleine Vrees was "happily astonished" with the performance of Punto Blanco's Madorijke, a ten-year-old mare she has trained from a youngster. The pair, in training with Tineke Bartels, is currently on the Dutch B squad and tipped for higher things next year. Compatriot Edward Gal finished sixth on the Trakehner stallion Gribaldi, one of Holland's most successful stallions.
Judge Volker Moritz summed up the competition, the third leg of the FEI World Cup dressage Western European League season. " It was a very close competition with no clear winner. Wansuela Suerte was best in the pirouettes, piaffe passage and half passes. While perhaps Bonaparte's freestyle could have shown a higher degree of difficulty, he showed excellent gaits. Silvia Ikle's Salieri showed very good piaffe and passage, but was not so brilliant in the walk or extended trot. I was very happy to see Carl Hester's Escapado show a smooth test with a lot of elasticity and great harmony. There was a little misunderstanding but as this was between movements it did not need to lose marks. The standard was very good at the top, but I would not say outstanding." The next qualifier takes place at London Olympia (December 14-15th).
Related Links
Scores 2004 CDI-W Maastricht 
Eurodressage Coverage of the 2004-2005 World Cup Finals