German Dressage News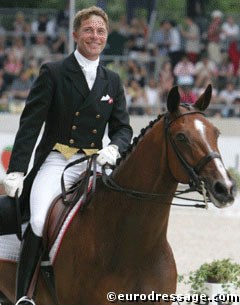 Nadine Capellmann has purchased Zancor, the 14-year old Swedish warmblood gelding that took the Dane Per Sandgaard to the 2004 Olympic Games. After the passing of Farbenfroh and the sale of Cockney, Capellmann was in desperate need of a new Grand Prix horse.
Capellmann tried out Zancor (by Calimero out of Zancia (by President)) for the first time early December 2004, but did not immediately buy him. After the death of Farbenfroh, negotiations strikingly accellerated and the deal was finalized last weekend. "It took so long to negotiate," Nadine Capellmann commented. Dutch dressage trainer and horse dealer Sjef Janssen was the middleman in the sale of Zancor.
"It's the worst thing that has happened in my life," a deeply disappointed Per Sandgaard said. "It is Zancor's owner Monica Lindstedt who took the final decision to sell him. "Zancor and me have a very special relation and we had the most fantastic experiences together."
The 37-year old Sandgaard made his Grand Prix debut aboard Zancor in 2002. He soon attracted the interest of the Danish Equestrian Federation and got on the Danish team for the 2003 European Dressage Championships. In 2004, however, the 37-year old Sandgaard made a blitz break through on the scene by breaching the 70% wall in several World Cup qualifiers. Being able to duel with the world's best Grand Prix riders, Sandgaard ranked 17th on the FEI/BCM Riders' ranking. At the Olympic Games Sandgaard and Zancor finished 10th individually. They also became the 2004 Danish Dressage Champions.
It has been a very long time since Denmark had such a strong dressage team as this year. With the sale of Kennedy in 2003 and with Zancor now going to Germany, the Danish Equestrian Federation will have to start a new search for Grand Prix talent.
"First of all this is very sad for Per that he has to miss his horse," said Kim Berner, head of the Danish Elite Riders Selection Committee. "I saw the hard work Per had put in Zancor. It is also very sad for Danish Grand Prix as we have to miss one of our best horses."
Per Sandgaard lives with his partner Peter Markne in Katrinholm, Sweden, where they manage a dressage stable. He has no other Grand Prix horse at his disposal. "But I'm certainly open to venture myself into a new collaboration," Per said.
Images and text copyrighted: Astrid Appels/Eurodressage.com - reproduction prohibited without permission
Related Links
Andreas Helgstrand and Per Sandgaard Selected for Danish Olympic Team 
Sandgaard and Helgstrand Ready for World Cup Qualifier in Stockholm