PSI Auction News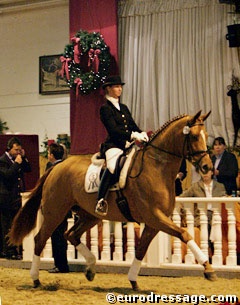 It came to me a bit as a surprise that Santa Cruz fetched the top price. This dark bay Oldenburger stallion (Sandro Hit x Calypso II) is a divine jaw dropping beauty but his hindlegs are not moving the way I'd like to see them go. Santa Cruz sold for 750,000 euro to an American who wishes to stay anonymous.
The 6-year old licensed stallion, who is bred by Paul Schockemohle himself and was competed at the 2004 Bundeschampionate by Helen Langehanenberg, will stay at Hof Kasselmann for further training.
A horse much more to my taste was Damenwahl. Even though the chestnut Oldenburg was only 3-year olds, the mares looked so steady and confirmed in her movements. She was absolutely flowing in walk, trot and canter and is a real potential for the future. This lovely lady was sold for 700,000 euro to Switzerland, but she will live and be trained by Christoph and Ilona Niemann in south Germany.
A horse that was sold for strikingly less money than expected was the licensed breeding stallion San Rubin. This Oldenburger by Sandro Hit x Rubinstein fetched a price of "only" 260,000 euro.
Under Dr. Ulf Möller, San Rubin won the Oldenburg Regional Championships this year. "All the people liked the horse," Dr Möller told Eurodressage after the auction, " but they expected him to be too expensive, so didn't try him out or look at his vet report. When he went cheaper than they expected, they were not prepared and didn't buy him because they hadn't tried him."
Also important to take into consideration this year is the weak position of the dollar to the euro. Many American buyers keep their wallets closed at the moment, because of the economic situation. "Now that the dollar is weak not so many countries are buying, but other countries get the chance to buy good horses," Möller commented.
Tough Bidding Duels for Louisiana and Flor de Selva
The third and fourth highest prices dressage horses at the PSI auction were sold after very tough bidding duels.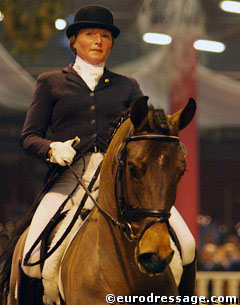 The Baden Wurttemberger mare Louisiana was one of my favorite horses on the DVD. The bay Lord Sinclair x Romino offspring showed incredible uphill and engaged gaits on the DVD and looked like a real star for the future. Apparently I was not the only one who shared that opinion, because Louisiana sold for 420,000 euro after a long bidding match.
The mare, who was very unfocused and frisky during her auction ride, had been purchased by a long time PSI client from France. The horse will go into training with Philippe van den Berghe.
A more exciting, yet emotional bidding contest went on between American Tim Dutta and Dutch Peter van der Zwan for the Westfalian Flor de Selva, a Florestan x Bormio xx offspring. Susan Dutta tried out Flor in the morning and got the final positive consent of her trainer Lars Petersen to buy this horse. When Flor entered the ring, Tim was sitting ready with a piece of paper to sign to Uwe Heckmann.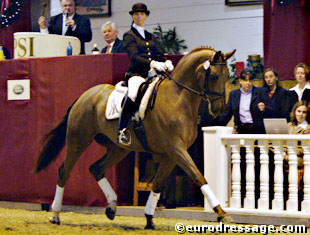 The bidding went fine, but when the amount passed 200,000 euro there were only two people left raising their hands for this horse. As Heckmann talks German when he auctions the horses, Tim and Susan were not immediately aware who they were bidding against. When Heckmann called out it was Peter van der Zwan who was raising the price, it was a lost match.
With a huge budget bidding against an unlimited one, it was outrageous and unrational for the Dutta's to continue going for the horse. Flor de Selva was sold for 350,000 euro to Peter van der Zwan in The Netherlands. Susan was very disappointed, of course, as she had set her mind and heart on this new horse and was to go home empty handed. Nevertheless, Tim was wise to stop the bidding because it could have gone forever and he would have been able to buy a world class Prix St Georges horse for to same amount of money. Talk about flaming emotions and huge deception all within three minutes.
Welpe's Countess to Australia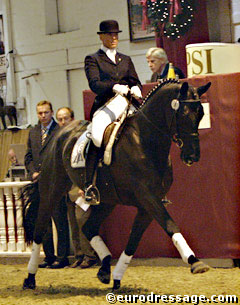 Volturno blood is popular again. At the 2004 Oldenburg Stallion Licensing, a Furst Heinrich x Volturno became the Licensing Champion. At the 2004 P.S.I. Auction, a black Wenckstern x Volturno mare sold for 110,000 euro to Clemens Dierks in Australia.
Another striking fact is that at this auction, horses that have a proven record were sold for remarkably lower prices than those who had not yet proven a thing in the show ring (except for Damenwahl). Reserve Bundeschampionate champion Destination (Don Gregory x Rubinstein) sold for 191,000 euro to Lady Inscape in Great Britain. The Baden Wurttemberger gelding Ideal (Iberio x Fierant), who finished fourth in the Bundeschampionate, sold for 130,000 euro to Belgium.
Biggest buyer at the auction was without a doubt Elke and Heinrich Kampmann. Last year this pair from Lingen, Germany, purchased Lots of Fun. This year, they acquired Le Cher for 130,000 euro, Fitou E for 300,000 euro and See You for 166,000 euro.
The Kampmanns, who are Rudolf Zeilinger's sponsors, also donated 45,000 euro to Unicef and received a Klaus Philip horse painting. PSI raised the amount to 75,000 euro and donated the money to Unicef for the children in need.
After the auction, PSI expressed their happiness with the auction results. "We are very happy with the results," Dr. Möller said, "the overall results were very interesting. Some horses sold to top trainers. There was a good balance between what you pay and what you get. We feel much pressure to show good horses at the P.S.I. auction every year and want to present horses for every class of buyers. For instance, big horses or small horses, like With Hope, or those with very good rideability."
More and more buyers are requesting anonymity when they purchase a horse at the P.S.I. auction "Confidentiality is very important to us. Some of the buyers have big companies and don't want their private affairs be linked to the name of their company," Möller explained.
Back to the 2004 PSI Auction index