2004 Olympic Games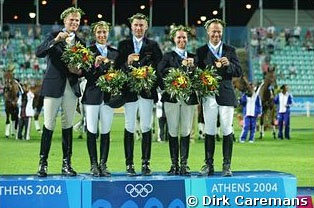 The German eventing riders, who won team gold and individual gold at the Olympics in Athens, have to return their medals to the FEI following the decision of the Appeal Committee that France won team gold and Leslie Law individual gold due to a faulty start of German rider Bettina Hoy.
The German Olympic Equestrian Committee (DOKR) reported that four of five riders have already returned their medals to the FEI in Lausanne, Switzerland. Only the gold medal of Hinrich Romeike is still in Germany, but it is "on its way" to Lausanne.
Romeike refused to hand in his medal and even went to a lawyer to see if he could file for a lawsuit himself. This is, however, impossible and Romeike was forced to part with his coveted team gold.
After the final decision of the Appeal Committee at the Olympic Games in Athens, Germany landed in fourth place and individual rider Bettina Hoy finished ninth.
Image copyrighted: Dirk Caremans