2004 Olympic Games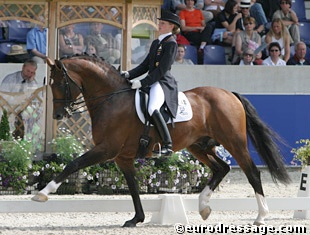 Following the CDIO Aachen, Dutch Chef d'Equipe Bert Rutten has decided on the riders that will form the Dutch Olympic Dressage team. Anky van Grunsven on Gestion Salinero and Edward Gal on Gestion Lingh
were already a certainty. Sven Rothenberger proved his team value at the CDIO Aachen as well and will be definitely included in the team.
Only the fourth team spot was still undecided. Initially Antoinette Falandt and Jarwo would fill in this position, but prior to Aachen Jarwo got withdrawn from the competition because of a recurring injury. Marlies van Baalen and Idocus filled in that spot in Aachen.
During the Aachen weekend, the Dutch team vet checked upon Jarwo and it become known that Jarwo will not be in shape for the Olympic Games. The horse has now been officially withdrawn from the Dutch Olympic Selection Process. Idocus will fill up that space.
It is remarkable that only four years apart both mother Coby and daughter Marlies van Baalen competed in the Olympic Games.
The official KNHS press release on the selection of the Dutch Olympic Team will follow soon.
Image copyrighted: Astrid Appels/Eurodressage