2004 Olympic Games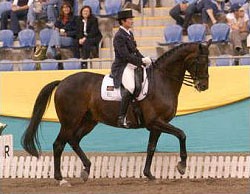 Australia will have two horse and rider combinations competing in Dressage at the Athens 2004 Olympic Games. This follows advice from the International Equestrian Federation (FEI)
that Finland had withdrawn from the Olympic Dressage competition, making Australia eligible to participate with 2 individuals (2 riders and 2 horses).
Kristy Oatley-Nist and Quando-Quando have already been nominated. Finland's withdrawal means that Ricky MacMillan and Crisp will also be able to compete at Athens.
This is, of course, great news for Australia and Australian Dressage.