2004 Olympic Games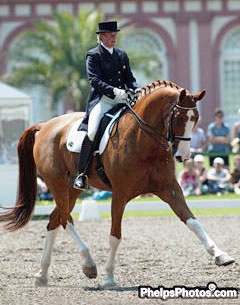 The chairman of the Dressage Ireland International Affairs committee, Mrs Joan Keogh, announced on Wednesday 30th June 2004 that Heike Holstein has been selected to represent Ireland at the Olympic Games. 
Heike will compete in Athens on the 12-year old Hanovarian gelding Welt Adel
Heike Holstein was born in Dublin and lives with her husband Andrew at the Sweep Stud, Carbury, Co Kildare. She has been national dressage champion of Ireland no less than 8 times - a record.  She was a member of the first ever international dressage team to represent Ireland (World Equestrian Games, Rome in 1998). The following year she was on the Irish team at the European Dressage Championships in Arnhem and placed 23rd in the individual line up. Heike was the youngest competitor in the dressage competition at the Atlanta Olympic Games.
Four years later she represented Ireland at the Sydney Olympics in 2000. In 2002 Heike was a member of the Irish team at the World Equestrian Games in Jerez with the imposing hannovarian gelding Welt Adel in his debut season on the international circuit. Last year she qualified for the Grand Prix Speciale (Top 25) at the European Championships in Hickstead with Welt Adel and placed 20th thereby securing an individual Olympic qualification place for Ireland.
Heike was awarded the Irish Field Dressage Rider of the year award in 1998 & 2003.
Image copyrighted: Mary Phelps/Phelpsphotos