2004 World Championships for Young Dressage Horses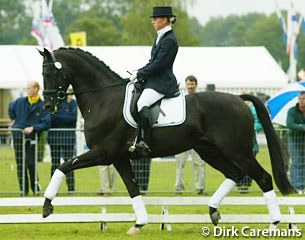 The Dutch Equestrian Federation and KWPN society have announced their entries for the 2004 World Championships for Young Dressage Horses in Verden, Germany, July 9-11, 2004. The selected horses are:
5-year olds
Spargo 
gelding by Krack C out of Gracia (by Boreas) - rider: Theo Hanzon
Sam
gelding by Ferro out of Utopia - rider: Engie Kwakkel
Stradivarius
gelding by Krack C out of Nion (by Contango) - rider: Leida Strijk
Special D
stallion by Metall out of Haafke (by Zandigo) - rider: Suzan de Klein
Scandic
stallion by Solos Carex out of Noraline (by Amiral) - rider: Remy Bastings
Reserve:

Garshof's Sajouti 
by Clavecimbel out of Gentia (by Flamingo)
6-year olds
Rhodium
stallion by Ferro out of Larcona (by Ramiro Z) - rider: Hans Peter Minderhoud
Magic Rodrigo
gelding by Indorado out of Celoma (by Stuyvesant xx) - rider: Edward Gal
Randy Star
mare by Lancet out of Iewertje (by Chronos/T) - rider: Sarah van Fessem
Decor Just Royal Dancer 
gelding by Jazz out of Kerginia (by Frühling) - rider: Mirelle van Kemenade/Witlox
Rambo
gelding by Gribaldi out of Tamora (by Amor) - rider Hans Peter Minderhoud
Remarkably absent from the Dutch selection list is Reserve World Champion Hilltop Rousseau. The bay licensed stalion by Ferro x Roemer is injured. "We're keeping a close eye on how he develops and improves again," the KWPN office reported, "but now it looks like he won't participate in Verden."
Image copyrighted: Dirk Caremans