Dutch Dressage News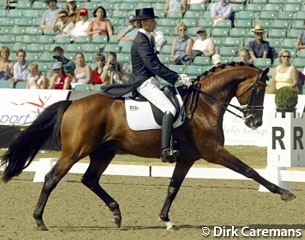 Dutch A-team Grand Prix dressage horse Gestion Lingh will be sold. Dutch equestrian magazine Hoefslag reported this news today. Lingh's 80-year old owner Theo van Sadelhoff decided to sell all his horses, including Lingh
, but has guaranteed that Edward Gal will be able to keep Lingh until the 2004 Olympic Games. Sadelhoff also owns the Prix St Georges horse Charmeur.
Gestion Lingh is an 11-year old Dutch warmblood stallion by Flemmingh out of a Columbus dam. The bay Lingh has the typical Flemmingh conformation, with a beautiful head and front, but has a high croupe and could sometimes be more engaged behind.
Lingh has been green broken and trained up to Grand Prix by Edward Gal. He competed in the 1997 Pavo Cup Semi-Finals as a 4-year old (finishing 19th). Lingh went on to show at the 1999 World Championships for Young Dressage horses in the 6-year old division finishing 9th overall.
It took Lingh until he was a Grand Prix horse to break through on the Dutch show scene. Under Gal, Lingh rose to stardom during the 2003-2004 World Cup Qualifier indoor season and was promoted to the Dutch A-team, making him a serious candidate for the Dutch team for the 2004 Olympics.
Source: Hoefslag 
Image copyrighted: Dirk Caremans
Related Links
Gestion Nourejev Injured 
Dutch Dressage Teams for 2004 Announced