KWPN Breeding News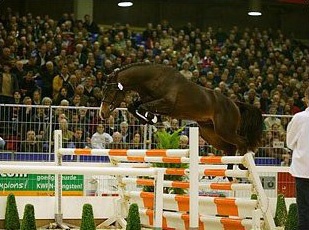 Catalog number 410, Ustinov, and catalog number 262, Uptown, have been proclaimed Champions of the 2004 KWPN Stallion Licensing in 's Hertogenbosch, The Netherlands.
Two colts were named 2004 KWPN Licensing Champion as the KWPN decided to make a distinction between dressage and shos jumping colts.
The Champion's title for dressage colts went to Uptown, a Kennedy x Ubis colt owned by Toine Hoefs, Kathy Connelly, and Al and Judy Guden of Hyperion Farms. Reserve dressage champion was catalog number 545, a Obelisk x Flamingo offspring. Finishing third was dressage colt UB40, a Olivi x Michelangelo offspring, who became the price highlight of the 2004 KWPN Select Sale. In fourth position was a Krack C x TCN Partout colt, while U2, a Sunny Boy x Aktion colt, ranked fifth.
Ustinov, a Libero H x Nimmerdor colt, took highest honours as 2004 KWPN Show Jumping Stallion Champion. Ustinov is a full brother to the approved Nijinsky. Reserve Champion in the show jumping ring was catalog number 258, a Heartbreaker x Burggraaf offspring. Third place went to number 633, Phin Phin x Burggraaf stallion.
More news and photos coming soon.
Image copyrighted: Dirk Caremans
Related Links
UB40, Price Highlight at 2004 KWPN Select Sale
"Playboy" Patrick, 2003 KWPN Stallion Licensing Champion in Finland