PSI Auction News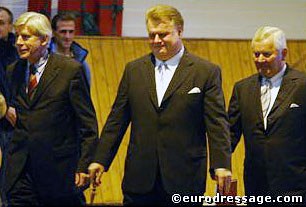 Although the Gala Ball is a highlight of the P.S.I. weekend, the true apex is of course the auction, for which many spectators and the creme de la creme of auction shoppers gather in Ankum, Germany.
The 2003 P.S.I. Auction was the 24th edition of this exclusive sale of young dressage and show jumping horses. P.S.I. is a company run by Paul Schockemöhle and Ullrich Kasselmann. Gestut Lewitz and Hof Kasselmann raise, select, buy and train top talented horses and annually build up a collection of the world's best sport horses for the auction.
This year only 30% of the horses were bred and raised by themselves, the other 70% was purchased. Besides offering World Champion and double Bundeschampion Poetin for sale, P.S.I had several bundeschampionate finalists and winners as well as the World Young Horse Show jumping Champion Run DMC in the show jumping lot.
Germany's most beloved auctioneer Uwe Heckmann has been auctioning for P.S.I. for many years and continues to dazzle and entertain the audience with his guttural German speech and his tic nerveux "Zum." Heckmann knows how to play audience and clients and has an exceptional feeling for timing, when to send out Joseph "Klaphi" Klaphake to discuss raising a price with potential buyers.
Golden Choice, Nomen est Omen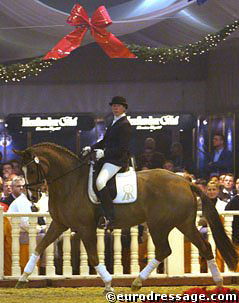 Dressage horse to open the 2003 P.S.I. auction was a chestnut Hanoverian mare named Golden Choice. Strategically placed first by the P.S.I. team, this horse raised the third best price in the dressage group. Golden Choice was not only the made to be placed first in the collection, but she was also her buyer's first choice for purchase.
Susan Dutta of Thornwood, NY, United States, bought Golden Choice together with her husband Tim Dutta. Nomen est Omen, the name is a sign. Golden Choice is by Grand Cru out of a Westbury dam and is closely related to Carol Lavell's Gifted and Dutta's own West Side Lady.
Dutta was very eager to buy this mare, as she tested her together with trainer Klaus Balkenhol. They both agreed that she would be an excellent addition to Dutta's already impressive horse collection. "Whenever I saw someone else patting her or trying her out, I was thinking to myself, 'hey, don't touch her, she's mine,' " Dutta joked.
The Dutta's recently sold the schoolmaster Chalston to a young rider in Switzerland and were looking for a good replacement. Golden Choice will fill up that spot with bravura.