2003 Bundeschampionate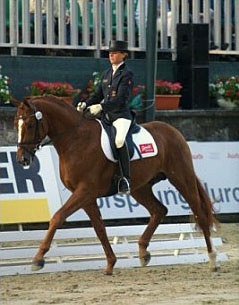 In the 3-year old riding horse stallion class, Gestut Sprehe's chestnut Rusty took highest honours. Ridden by Julia Katharina von Platen, Rusty was presented in a relaxed and balanced way
, and showing explosive movements. Rusty (by Rubinstein x Weltmeyer) is a licensed breeding stallion bred by Eberhard Hennings from Petershagen, Germany, and was reserve licensing champion in Hannover. Rusty received a 9.5 for trot and conformation and in the Fremdreitertest finals, Oliver Oelrich and Kathrin Burger scored the chestnut 10.0 and 9.5.
Although Rusty was the favorite of his class, there was severe competition coming from other young stallions. Especially the second placed Westfalian stallion Farewell III (Fidermark x Rosenkavalier) inspired the audience with his beauty and expression. Sandro Kötter rode Farewell III in Warendorf. The stallion is stationed at Klatte in Oldenburg. Placing third was Miriam Henschke Dream Catcher, an Oldenburg stallion by Day Dream x Rubinstein. Bruno Six described Dream Catcher as "an athlete who impresses with his power and dynamics." Dream Catcher will be sold at the P.S.I. auction on December 7, 2003.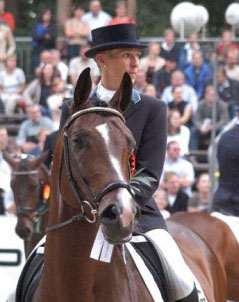 A tumultuous response of booing and whistling came from audience after the judges' verdict on the stallion Damon Hill in the qualifying round. Ridden by Ingrid Klimke, Damon Hill (Donnerhall x Rubinstein) won the Westfalen Wappen with 9.2. one month before the Bundeschampionate, but in Warendorf the stallion could not impress judges Dr. Rudolf Fuchs, Dieter Steimke, and Dietmar Persch. The trio gave Damon Hill an 8,3, which was insufficient to qualify for the finals.
In the 3-year old mares and geldings class it was Devil's Bride, a Don Primero x Castro offspring, who dazzled the crowds. Scoring 10 under both the fremdreiter judges Katrin Burger and Olvier Oelrich as sole mount in the entire riding horse division, Devil's Bride was the unanimous winner of her class. Trotting and cantering with power and elasticity, the Oldenburg mare Devil's Bride was presented by Stefanie Hein and is bred and owned by Heinrich Henke from Hamburg.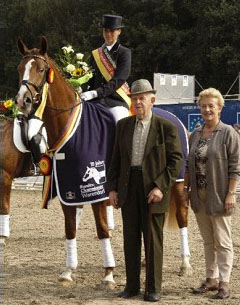 If beauty, harmony and expression would have been the only judging standards of the 3-year old mare and geldings' class, than the fourth placed mare Prinzessin would have won it. Prinzessin was presented by Christian Flamm and is owned and bred by the Brandenburger Landgestut in Neustadt/Dosse. The Brandenburger mare is by Lord Sinclair x Brentano II and showed a bit less quality in movement than the top three that ranked before her in the finals. The Hanoverian mare Walkof Fame (Weltmeyer x Carbid) impressed the audience the most. Under Iris Jonetat, Walk of Fame scored 9.2 in the qualifier, earning a 10 for walk, but the gelding could not sustain this high level in the finals and in the fremdreitertest, he was defeated by Devil's Bride.
In the 4-year old stallion class, Holga Finken rode his eight Bundeschampionate Champion. It was the Rhinelander stallion and Auction Highlight (167,000 €) Bellissimo M (by Beltain x Romadour II) who was the undisputed leader in his class and who gave Finken's eight Warendorf triumph. The audience was stunned by Finken's presentation qualities on Bellissimo. Spontaneous applause sprang from the spectators when the stallion trotted with delightful balance in the ring. Bred by Dieter Niesar of Kranenburg, Germany, and owned by Schmidt GmbH in Lippetal, Germany, Bellissimo M has bred approximately 350 mares this year. Holga Finken was ecstatic about his liver chestnut mound: "I have seldom ridden such an excellent horse. I can only compare him to Wahajama." Bellissimo won the first round with 9.2. In the fremdreitertest Finals, Christine Traurig gave Bellissimo M a 10 and Carola Koppelmann gave him 9.5.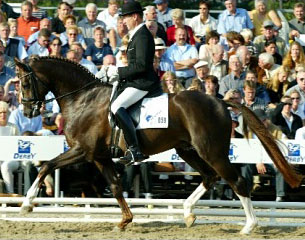 Bellissimo M was in a tight battle with the Westfalian stallion Florencio, a Florestan x Weltmeyer offspring who was bred by Susanne Lang from Kamen, Germany. In the first qualifier, Florencio scored 9.1. Under Simon Drop, the spectacular mover Florencio scored 10s for canter in both the first round and the finals. Florencio was discovered in Westphalia by the Belgian Frank van Dijck, who tragically died in a car accident a few years ago. Florencio then moved to Holland and became owned by Eugene Reesink. "We didn't presented him at the licensing," Reesink explained, "because he was not yet ready for it." Now, Florencio has done the 30-day 'Veranlagungstest' in Zweibrücken and became approved for the Oldenburg verband. The stallion is currently stationed at Kathmann's.
Finishing third in the four year old stallion class was Anja Engelbart on Rosario. Last year's reserve champion, Rosario (Rubinstein x Castro) is bred by Theodor Wilken and owned by Paul Schockemöle. Rosario excelled in his trot work for which he received a 9.5 in the qualifier and a 9.0 in the finals.
Another auction highlight took highest honours in Warendorf, namely Bon Jovi. Being the top knock down price selling horse at the 108th Elite Auction in Verden (190,000 €), Bon Jovi had much to live up to in the 4-year old geldings and mares' class. The Brentano II x Weltmeyer offspring was ridden by Vanessa Bentz and dominated both tests. Bred by Horst Kiehne from Gehrde, Germany, and owned by the Luttgen family, Bon Jovi was a high calibre horse with three pure basic gaits, that all received 9.0s from the judges Dr. Dietrich Plewa, Erik von Essen, and Martin Richenhagen.
The Donnerhall x Consul mare Don Frederica, a full sister to the 2000 Hanoverian Licensing Champion Don Frederico, placed second overall under Iris Jonetat. Bred by Angelika Westerhoff and owned by Klaus Bunger, Don Frederica has an excellent trot which scored 9.5. Finishing third was auction highlight Sympathico, an Oldenburger by Sion x Figaro, owned by Sarah and Toni Pidgley of Kilbees Farm in Great Britain. Anne Reher presented the dark bay, who had a superb trot and canter, but lacked quality in the walk. Katja Camp's Furst Fabio (Fidermark x Worldchamp) was well on his way to become reserve champion, but the stress was too much for him in the finals. A tense walk (5.5 points) made the score drop considerably and the pair placed 8th overall.
Back to the 2003 Bundeschampionate Index