German Dressage News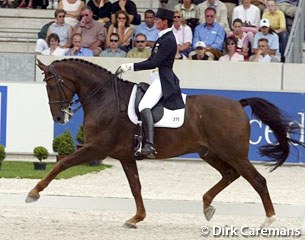 Ulla Salzgeber will most likely compete at the 2003 European Championships in Hickstead, which take place the second week of August 2003. The legal department of the German Equestrian Federation
(FN) has decided that the 1995 rule of the German Olympic Committee for Equestrian Sport (DOKR) can not be applied. This DOKR rule, dated from 1995, stipulates that a rider can not participate in any championships when there is a pending doping case against him.
Ulla Salzgeber requested the FN to overrule the DOKR rule, as she has not been banned from competing by the hierarchically supreme federation, the F.E.I. or the International Equestrian Federation. The F.E.I. can not sanction riders whose doping case are legally pending. Salzgeber has requested for the public opening of the B-test, but the FEI still has not announced the B-test results.
Consequently, Ulla Salzgeber will most likely defend her 2001 European Champion's title in Hickstead.
Image copyrighted: Dirk Caremans
Rusty Doping News