2003 European Dressage Championships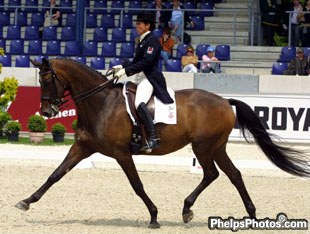 Dressage Canada has named a four-member team plus one reserve rider for the Open European Dressage Championships (OEDC).
The team includes Christilot Boylen of Ontario with Lucky Lemon, owned by C. Dora Boylen; Belinda Trussell of Ontario, on Royan II; Shannon Dueck of British Columbia on Korona; and Ashley Holzer of Ontario, with Imperioso (NL), owned by Tess Gilder. The Reserve is Alexandria Wilson of Alberta with Quixote St. Urus, owned by Jorge Ferreira Rocha.
Gwynne Rooke will serve as the chef d'equipe.
The 2003 Open European Dressage Championships takes place August 13-17 in Hickstead, England. Canada is using these Championships in hopes of obtaining a berth for the 2004 Olympic Games being held in Athens, Greece.
Image copyrighted: Astrid Appels/Phelps Photos